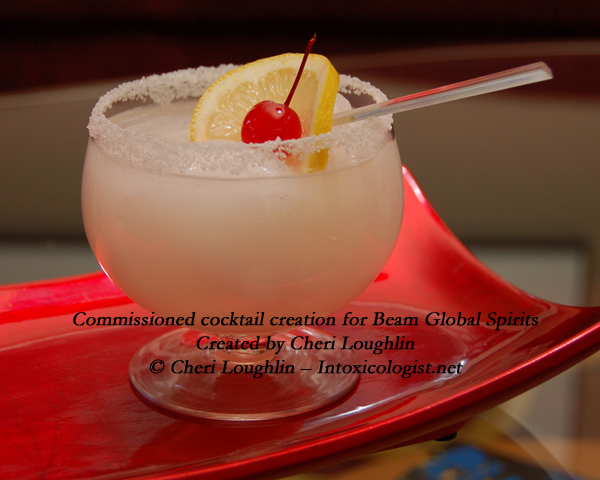 Cherry Blossom – created by Cheri Loughlin
2 parts Cruzan Black Cherry Rum
1/4 part Orgeat
3 parts White Cranberry Juice
Lemon/Sugar Rim*
Lemon Slice & Maraschino Cherry Garnish
*Rim – Equal parts Sun Crystal & Tru Lemon packets combined.
Rim large goblet with fresh lemon.  Dip into Tru Lemon/Sun Crystal Natural Sugar mixture.  Set aside.  Combine liquid ingredients in a cocktail shaker with ice.  Strain into lemon sugar rimmed goblet over fresh ice.  Garnish with speared maraschino cherry wrapped with fresh lemon slice.
Cheri Loughlin specializes in cocktail creation and photography.  Customized cocktail creation is offered for liquor brands, businesses, bars & restaurants and individuals.  Cocktail recipes and photos are commissioned for creation with specific spirits, themes, type of cocktail and ultimate placement in mind for brands, bars & restaurants and individuals.  For more information about cocktail creation and photography please contact Cheri Loughlin at str8upcocktails@gmail.com.
Find The Intoxicologist on Twitter, Facebook, StumbleUpon or Email: str8upcocktails@gmail.com – Copyright 2011 Cheri Loughlin – The Intoxicologist – All Rights Reserved – All opinions, reviews and spirits' coverage contained within are the personal opinion and decision of Cheri Loughlin, The Intoxicologist