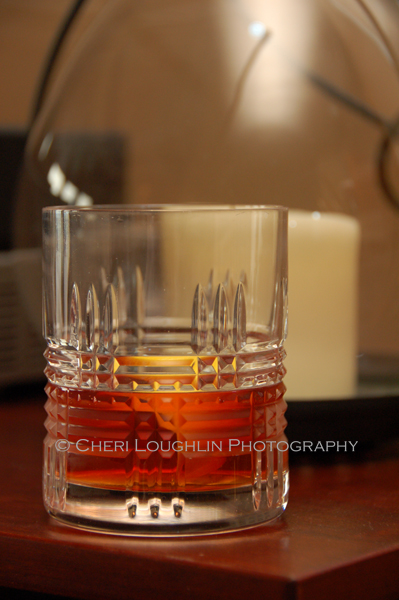 Though the black rose does not actually exist in nature, when given as gift the meaning is larger than life – pardon the pun. Symbolically the black rose means "death or farewell." However, when paired with a lover's holiday the Black Rose could take on new meaning beyond gloomy. A toast to burying the past with nod to hopeful beginnings is always a wonderful way to begin one's finest hour or any Happy Hour – don't you think? If nothing else, the Black Rose is sure fire way to begin a conversation.
Black Rose
1 ounce Bourbon
1 ounce Cognac
1/4 ounce Grenadine Syrup
3 Dashes Peychaud's Bitters
1 Dash Angostura Bitters
Lemon Zest Twist
Combine all liquids with ice in mixing glass. Stir to chill. Strain into chilled glass – no ice. Garnish with lemon twist. Other forms of the Black Rose call for bourbon, grenadine splash and one bitters only served either on the rocks or without rocks in an Old Fashioned glass. Recipe source: Difford's Guide book
Twitter, Facebook, StumbleUpon – str8upcocktails @ gmail.com – ©2012 Cheri Loughlin-The Intoxicologist, All Rights Reserved.