Nose Warmer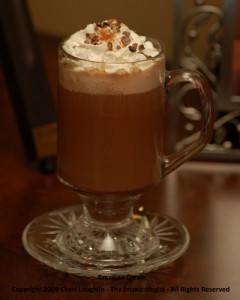 1 measure Coffee Liqueur
1 measure Hazelnut Liqueur
1 measure Irish Cream
1 measure Premium Orange Liqueur
Hot Coffee or Fresh Espresso
Whipped Cream
Place liqueurs in bottom of large heat resistant mug or latte cup. Top with fresh brewed coffee or espresso. Garnish with whipped cream.
Cheri Loughlin is a leading cocktail and photography resource for beverage companies, event planners, businesses and individuals. High resolution cocktail and beverage stock photography images are available in downloadable digital format in the newly redesigned Stock Photography Gallery at www.cheriloughlin.com.
Twitter, Facebook, StumbleUpon – str8upcocktails @ gmail.com – ©2012 Cheri Loughlin-The Intoxicologist, All Rights Reserved. All opinions, reviews and spirits' coverage are the personal opinion and decision of Cheri Loughlin.