All night rounds of tequila shots never tasted so delicious. The Camarena Tequila Noche de Arandas shot contains flavors of buttery chocolate with fruited center. Delicious dark as a Halloween shot. Temptingly tasty for anytime of year.
Noche de Arandas Shot
Noche de Arandas – created by Cheri Loughlin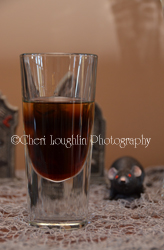 1/2 ounce Camarena Silver Tequila
1/2 ounce Butterscotch Schnapps
1/2 ounce Dark Crème de Cacao
1/2 ounce Crème de Cassis
Combine liquids in cocktail shaker with ice. Shake to blend and chill. Strain into shooter glass.
Cocktail Recipe commissioned by Camarena Tequila Representatives

All content ©2012 Cheri Loughlin, The Intoxicologist. All Rights Reserved. Chat with Cheri @Intoxicologist on Twitter and facebook.com/Intoxicologist or str8upcocktails@gmail.com