All night rounds of tequila shots never tasted so delicious. The Camarena Tequila Noche de Arandas shot contains flavors of buttery chocolate with fruited center. Delicious dark as a Halloween shot. Temptingly tasty for anytime of year.
Noche de Arandas Shot
Noche de Arandas – recipe by Cheri Loughlin, The Intoxicologist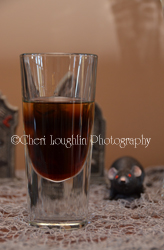 1/2 ounce Camarena Silver Tequila
1/2 ounce Butterscotch Schnapps
1/2 ounce Dark Crème de Cacao
1/2 ounce Crème de Cassis
Combine liquids in cocktail shaker with ice. Shake to blend and chill. Strain into shooter glass.
The Noche de Arandas shot recipe was commissioned by representatives of Camarena Tequila as part of the Corporate Mixology program offered by Cheri Loughlin, The Intoxicologist. Find more recipes created by Cheri Loughlin for Camarena Tequila on this site and at tequilacamarena.com and by following Camarena Tequila on Facebook and Twitter.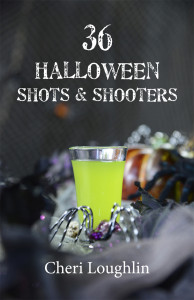 Find more Halloween themed shots and shooters recipes in my new eBook available on Kindle. 36 Halloween Shots & Shooters eBook offers 36 original, adapted and popular shot recipes perfect for scaring up a devilish Halloween party. A full color photo of the exact drink is included with every Halloween recipe.
Order your copy today!
All content ©2013 Cheri Loughlin, The Intoxicologist. All Rights Reserved. Chat with Cheri @Intoxicologist on Twitter and facebook.com/Intoxicologist or str8upcocktails@gmail.com