The Serpent's Tooth cocktail is best served to those slippery devils with sharp tongue and wicked spirit.  It is best savored with sordid tales of misdeeds and misconduct of the devious sort.  Serpent's Tooth is sure to stir the spirit, sate the soul and mislead the faint of heart. Tread carefully.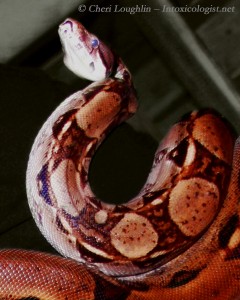 Serpent's Tooth
1-1/2 ounce Irish Whiskey
1 ounce Sweet Vermouth
1/2 ounce Kummel*
1/2 ounce Fresh Lemon Juice
3 dashes Angostura Bitters
Combine liquids in mixing glass with ice. Stir until thoroughly chilled. Strain into chilled cocktail glass. Sip and savor with slightly forked tongue and sly smile.
*Kummelliqueur is flavored with caraway, cumin and fennel.
Cheri Loughlin is a leading cocktail and photography resource for beverage companies, event planners, businesses and individuals. High resolution cocktail and beverage stock photography images are available in downloadable digital format in the newly redesigned Stock Photography Gallery at www.cheriloughlin.com.
Twitter, Facebook, StumbleUpon – str8upcocktails @ gmail.com – ©2012 Cheri Loughlin-The Intoxicologist, All Rights Reserved. All opinions, reviews and spirits' coverage are the personal opinion and decision of Cheri Loughlin.