You are now entering The Twilight Zone…of cocktail recipes that is.  The Twilight Zone aired as a television series fifty years ago today, a full decade before I was born.  Yet, I remember bits and pieces of the series like most TV goers in varying ranges of age.  The show is iconic with a few revivals and 156 original episodes.   Perhaps its cult-like following through the years had to do with its peculiar plot twists woven in with a bit of whimsy and science fiction fantasy.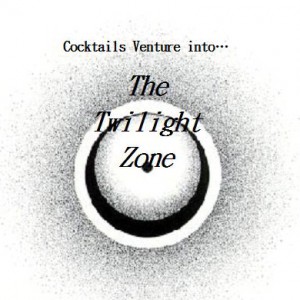 We've all heard the saying that truth is stranger than fiction.  In the case of Rod Serling's capricious, fanciful tales – the twist of fate and unknown is perhaps the most unnerving as its truth hits closest to home as it drives each of our inner fears tapping at what niggles at the demon inside each of us.
Perhaps most interesting about The Twilight Zone are favorite episodes among viewers.  There are of course the Top 10 Favorite Twilight Zone Episodes as chosen by registered users on tv.com.  What about the favorites that you, readers of The Intoxicologist site, Twitter and Facebook users have chosen?  Rod Serling touched on trepidation or intrigue with his characters and woven tale in these reader favorites.
Nightmare at 20,000 Feet made the list of reader favorites and tv.com Top 10 Favorite Twilight Zone Episodes.  It was described as 'spooky' by one.  William Shatner starred.  While flying high on a plane he looks out to capture sight of a Gremlin trying to disengage the aircraft of its engine.  The problem is he already has a history of being a bit crazy and no one else sees the Gremlin.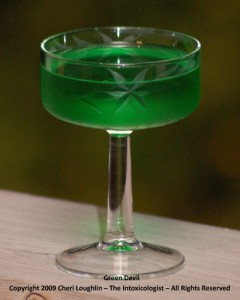 Green Devil
2 ounces Gin
1/2 ounce Lime Cordial
1/4 ounce Green Crème de Menthe
Combine ingredients in a mixing glass with ice.  Shake to blend.  Strain into a rocks glass over fresh ice.
Green Devil definitely carries minty lime undercurrent.  The mint lingers heavily in the finish and warmth through the throat.  Color is perfectly lime Jell-O green making this an excellent color for the holiday time of year or save it for St. Patrick's Day celebrations.
Gremlin
1-1/2 ounce Vodka
3/4 ounce Blue Curacao
3/4 ounce Rum
Splash Orange Juice
Place liquids in mixing glass with ice.  Shake to blend and chill.  Strain into a cocktail glass.
Ever want to win something so badly you'll say a prayer, whisper something under your breath or just promise, promise, promise to do anything for it?  Jesse Cardiff did and champion pool player Fats Brown rose from the dead in a fog filled pool room.  A Game of Pool doesn't rank in the Top Ten, but it does teach a valuable lesson…careful what you wish for.  Jesse bets his life on a wish.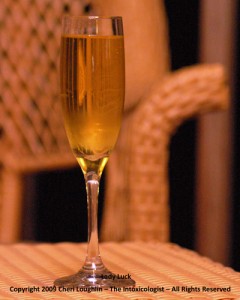 Lady Luck
1/2 ounce Armagnac
1/2 ounce Pear Liqueur
Champagne
Pear Slice Garnish
Combine Armagnac and pear liqueur in mixing glass with ice.  Stir to chill.  Strain into champagne flute.  Top with champagne.  Garnish with pear slice.
Lady Luck tastes a lot like…champagne.  Lovely and festive without going overboard on pear flavor.  Possibly up the Armagnac to 3/4 ounce for a little more 'umph'.  If you're going to use it for flavor, you might as well taste it.  This drink recipe would be ideal for holiday parties.
Death Wish
1 part Grenadine
1 part Bourbon
1 part Peppermint Schnapps
1 part 151 Rum
Layer ingredients in the order given in a pony glass or shooter.
Time Enough at Last has been parodied on many shows even The Simpsons.  Even so, it doesn't merit a ranking on tv.com by its registered voters.  What's up with that?!  It did however get listed as #25 on TV Guide/TV Land's 100 Hundred Most Memorable TV Moments.  Guess that speaks for something.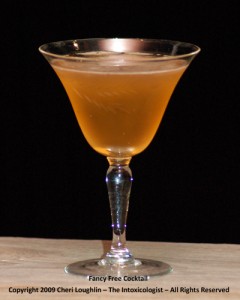 Fancy Free Cocktail
2 ounces Bourbon
1/2 ounce Luxardo Maraschino Liqueur
1 dash  Classic Bitters
1 dash Orange Bitters
Combine in a mixing glass with ice.  Stir to chill.  Strain into a cocktail glass.
Fancy Free is entirely too sweet for my palate, but the bitters do add nice spicy kick to this bourbon cocktail.  Maybe tone down the sugar factor by decreasing the Luxardo Maraschino Liqueur to 1/4 ounce to add flavor balance without so much sugar rush.
Fine & Dandy
2 ounces Canadian Whiskey
1/2 ounce Dubonnet Rouge
1/2 ounce Triple Sec
Lemon Twist Garnish
Combine liquids in a cocktail shaker with ice.  Shake to blend and chill.  Strain into a cocktail glass.  Garnish with lemon twist.
Mirror Image was an unusual choice for Halloween themed shows airing at the time.  Rod Serling said that this story was based on a real-life experience that he had.  Perhaps it was all just a sense of déjà vu for Rod Serling or he had just been in a bus station before.
According to The Bartender's Best Friend by Mardee Haidin Regan the following Pink Lady cocktail is an updated formulation to the original 1930's classic cocktail recipe.
Pink Lady
2 ounces Gin
1/2 ounce Heavy Cream
2 dashes Grenadine
1 Egg White
Place ingredients in a cocktail shaker with ice.  Shake thoroughly to blend and chill.  Strain into a cocktail glass.
Pink Lady was chosen for the demure female character that has a most unlikely breakdown among strangers.  Not only is the Pink Lady a classic cocktail recipe, it is light on flavor, not even remotely sweet, tart or tangy.  Gin sifts through gently as if on a cloud of fluff.  This is delightful.
Greyhound
2-1/2 ounces Vodka
4 ounces Grapefruit Juice
Build over ice in a highball glass.  Stir.
While most of us say we would never, ever relive our teenage years…just once wouldn't it be kind of cool to glance at what we were like as kids?  For scientific purposes of course!  That way we would have proof for our kids that we never, ever behaved the way they do.  Just saying… Walking Distance is about a man who revisits his past and meets up with things that could change his future.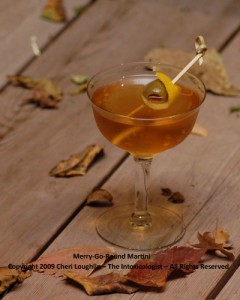 Merry-Go-Round Martini
2 parts Gin
1/2 part Dry Vermouth
1/2 part Sweet Vermouth
Olive & Lemon Zest Twist Garnish
Stir in ice.  Strain into martini glass.
I'm not sure what the olive does for this cocktail other than create an intriguing garnish, but the drink spins out rather stunningly.  Great fall color with a touch of perfect vermouth balance.
Bitter-Sweet
1 ounce Sweet Vermouth
1 ounce Dry Vermouth
2 dashes Classic Bitters
Lemon Twist Garnish
Pour vermouths and bitters in a mixing tin with ice.  Stir until thoroughly chilled.  Strain into a cocktail glass.  Garnish with lemon twist.
Quote: "To Serve Man" was the scariest Twilight Zone of my childhood. – from a Twitter user.  Was it the aliens or the extremely creepy ending?  I never actually saw this episode, but only read the review.  I had to do a double take.  Talk about gruesome!  If there were parental advisories back in the day, this episode would have had one for sinister factor.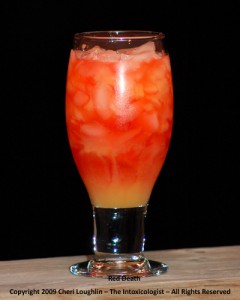 Red Death
1/2 ounce Vodka
1/2 ounce Sloe Gin
1/2 ounce Southern Comfort
1/2 ounce Triple Sec
2-1/2 ounces Orange Juice
Combine ingredients in a mixing glass.  Stir.  Pour into a highball glass over fresh ice.
Red Death is sensational, but leans toward the sweeter side of cocktails.  It has unusual kick to it in the middle and finishing taste.  If one has to hang with the Martians and go and untimely death…what a way to sip at it.
Allies Cocktail
1 ounce Gin
1 ounce Dry Vermouth
1/4 ounce Kummel
Place liquids in a mixing glass with ice.  Shake to chill.  Strain into a cocktail glass.
Twitter, Facebook, StumbleUpon – str8upcocktails @ gmail.com – ©2012 Cheri Loughlin-The Intoxicologist, All Rights Reserved. All opinions, reviews and spirits' coverage are the personal opinion and decision of Cheri Loughlin.
Cocktail Recipes Enter The Twilight Zone