This creation by Gary Regan began as a charming cocktail with the wispy sound of summer; Botanical Breeze.  Gary paired B&B with one of my favorites, St-Germain Elderflower Liqueur.  Usually my preference is a cocktail shaken over ice and then strained into a chilled martini glass.  This allows the cooled spirits to retain their true flavors without becoming watered down through the eventual melting of ice as the cocktail sits.  As much as I hesitate to differ with Gary Regan's fabulous creation, the Botanical Breeze as originally called for turned out too intensely flavored for my palate.  However, the essence of the entire drink was superb and wanted for nothing to balance the flavor.  The only option I could think of was the addition of a few dollops of ice.  Nothing more, nothing less was needed.  Simple as that!  The Botanical Breeze happened to be so fabulous I helped myself to two.
Botanical Breeze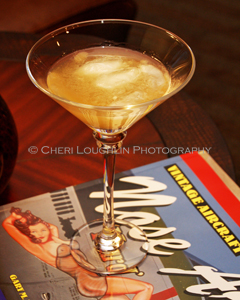 1-1/2 measure Bombay Sapphire Gin
1/2 measure B&B Liqueur
1/2 measure St- Germain Elderflower Liqueur
1/2 measure Fresh Lime Juice
Kiwi Slice Garnish
Combine liquids in cocktail shaker with ice. Shake to blend and chill. Strain into chilled champagne coupe. Float peeled and sliced kiwi slice as garnish. (You'll notice no garnish of kiwi in my photo.  It was Christmas Day and sometimes The Intoxicologist fails to plan ahead with proper supplies of fresh fruit from the grocer.  My apologies Gary.)
The shortened story of B&B Liqueur:Midtown Manhattan. Early 30's. Intense Jazz. Hip Cliques. Supreme Cocktails. Mingling of the Finest; Benedictine and French Brandy creating a monumental classic – B&B Liqueur. The rest is history!
Cheri Loughlin is a leading cocktail and photography resource for beverage companies, event planners, businesses and individuals. High resolution cocktail and beverage stock photography images are available in downloadable digital format in the newly redesigned Stock Photography Gallery at www.cheriloughlin.com.
Twitter, Facebook, StumbleUpon – str8upcocktails @ gmail.com – ©2012 Cheri Loughlin-The Intoxicologist, All Rights Reserved. All opinions, reviews and spirits' coverage are the personal opinion and decision of Cheri Loughlin.
B&B Liqueur: Timeless Classic