VeeV is an exceptional liqueur; not too sweet, yet engaging enough on the palate to quash the need for sweetener if one chooses to consume it straight. As VeeV straightforwardly publicizes, this is "the end of vodka." Vodka unsurprisingly arrives tasteless in the glass. VeeV offers something a little different. Then again it should. VeeV is categorized as a liqueur, not vodka.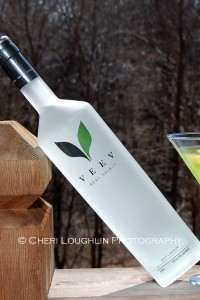 VeeV is the World's First Acai Spirit. Its goal is to change the way consumers think about cocktails and in the end, the way cocktails are ultimately consumed. Acai, the exotic Brazilian berry taking the world by storm, is said to be one of the healthiest fruits on the planet. VeeV is a wheat based spirit infused with Acai that includes the flavors of prickly pear and acerola cherry. According to the chart on the VeeV website, there are more antioxidants in Acai than there are in pomegranates, blueberries and an orange combined. Even so I am not sold on the fact that a near perfect fruit remains in the same perfect state once it goes through the entire distillation process and is fused with alcohol. Honestly, downing enough VeeV to get enough all the benefits from the Acai will be outweighed by the ill effects of the alcohol. 
It is interesting that VeeV, a liqueur, feels the need to try and knock off vodka or take a jab at people who enjoy consuming vodka by itself or as a mixer. (See the Vodkabots) The thing is VeeV would mix terrifically with Vodka if someone chose to do so, for the very fact that vodka is a flavorless spirit. VeeV's flavor would not be overwhelmed by the taste of another premium spirit. It is a shame VeeV desperately tries to shut out an entire spirits category. 
The "End of Vodka" site is flawed with some of their wit. Click on the Vodka History button at the bottom of the page the pop up states, "The Long Boring History of Vodka." VeeV spins history in such a way that it is quite entertaining. Evidently vodka is responsible for communism, Ben Franklin putting inventions on the back burner and Michelangelo discontinuing painting and sculpting for a year. They harp on the fact (over and over and over and over again) that aroma and taste are still not present within vodka even though in the year 2007 there is a first time "570-times" distilled vodka. Where is that one? I missed it! Somewhere in the mix roller-discos, boy-bands and the mullet coincidentally came into existence at the same time flavored vodkas are invented. It sounds like vodka has an extremely fascinating history; nothing boring about it at all. When vodka is distilled properly it is supposed to be pure; flavorless and without offensive aroma. Despite VeeV's poke at hang-over cures, overindulgence in any alcohol will yield a nasty hangover the next day, even one infused with the wonder fruit, Acai.
Another oddly humorous display on "The End of Vodka" site is the voting section in which vodka drinks the world can do without are parodied. The reason it's amusing: Some of these vodka drinks directly draw a parallel to some of VeeV's "better way to drink" cocktails. Examples:
Potato & Soda which usually includes vodka, soda and a lime
VeeV's equivalent – VeeV It Up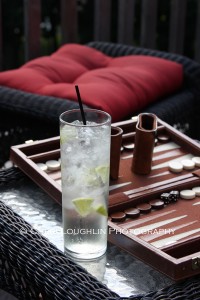 2 ounces VeeV
Club Soda
Fresh Lime Juice
Place VeeV in a highball glass filled with ice. Top with club soda. Squeeze in half of a fresh lime. Garnish with a fresh lime wedge. Add a stir stick.
The Grainmopolitan which usually includes vodka, cranberry juice, triple sec or orange liqueur and lime juice.
VeeV's equivalent – VeeV Acai-tini
2 ounces VeeV
1-1/2 ounce Acai Juice
1/2 ounce Lime Juice
1 barspoon Agave Nectar
Combine all ingredients in a cocktail shaker filled with ice. Shake until chilled. Strain into a chilled martini glass. Garnish with a lime wedge. 
There are also Tato-Shooters which of course if placed in a different cocktail glass could be called a vodka martini rather than vodka shooter. Ironically enough, VeeV is terrific when chilled in a cocktail shaker and served in a martini glass in exactly the same manner a straight up vodka martini is served. I'll go out on a limb and guess a fair amount of people across the nation have actually tried a VeeV Shooter already. VeeV is not above any other spirit on the market when it comes to what people will put into a shot glass and toss down their throat.
These comparison recipes however lead me to the fourth site I found weaved within the VeeV family of sites: Drink Unique. While The End of Vodka site takes a poke at vodka and is a wee bit critical of a few vodka classics and/or consumer favorites, Drink Unique makes up for all of that. This is the site that teaches the home bartender/cocktail enthusiast how to pull it all together with this new "better way to drink." VeeV may be shaking things up a smidgen by standing on the corner shouting "the end is near," but at the same time they hold a big banner showing the classics and the new VeeV twist. WAIT! Drink Unique also teaches you how to make your own drinks unique, where to find VeeV cocktails in your own cities and a little about going green. If you take the time to scroll through previous posts there are plenty of unique VeeV cocktails to glean from the site. Most are easier to replicate than the ones on the official VeeV site.
VeeV's flavor rings slightly of grapefruit without the acidity. Hints of cherry may be detected, but are not overwhelming. I almost sense a wee bit of coconut rounding out in the finish, however that could possibly just be the spirit's smooth profile shining through. There is little to no burn in this liqueur. It is excellent chilled as is with no need for a mixed cocktail if one chooses to consume it straight. To be quite honest the first thing I wanted to do was mix this with Van Gogh Pineapple Vodka and muddled pineapples as the aroma of the VeeV lends itself so enticingly toward that flavor. But, since this is a review and VeeV is so anti-vodka I figured I would stay true to the "end of vodka" theme…for now.
Champagne usually goes great with anything and VeeV is no different.  The difference with VeeV and other liqueurs is it is light on flavor. With the VeeV-ini, a half ounce of VeeV is not enough to actually taste the liqueur. It disappears in the champagne. Up the measurement to at least an ounce and a half and then you have something to write home about. 
VeeV-ini
1/2 ounce VeeV
Champagne
In a champagne glass, drop in a chilled shot of VeeV with champagne and garnish with blueberries or raspberries.  Intoxicologist Note: Use 1-1/2 ounce of VeeV and Brut Champagne.
VeeV never said anything about tequila! This little elixir works rather nicely as a more lilting liqueur in an updated margarita. Reposado tequila created the perfect base with its clean taste and hints of spice and oak. The Mar-VeeV definitely allows the VeeV flavor to flow through with traditional margarita flair around the edges. This is a terrific way to take a classic and VeeV it up a little.
Mar-VeeV – created by Cheri Loughlin
1-1/2 measure Reposado Tequila
1 measure VeeV
3/4 measure Fresh Lime Juice
1/2 measure Agave Nectar
Lime Wedge Garnish
Combine liquid ingredients in a cocktail shaker filled with ice. Shake until chilled. Strain into a double old fashioned glass over ice. Garnish with lime wedge.
VeeV Lemon Drop really did make vodka unnecessary.  This one turned out excellent.  It is lemony with just the right amount of tang, tart and sweetness.  A few tiny adjustments to the same recipe and a VeeV Raspberry Lemon Drop may be enjoyed as well. 
VeeV Lemon Drop – created by Cheri Loughlin
2 measures VeeV
1 measure Fresh Lemon Juice
3/4 measure Simple Syrup
Lemon Twist Garnish
Combine liquid ingredients in a cocktail shaker filled with ice. Shake until chilled. Strain into a chilled martini glass. Garnish with lemon twist.
VeeV Raspberry Lemon Drop – created by Cheri Loughlin
2 measures VeeV
1 measure Fresh Lemon Juice
1/2 measure Simple Syrup
1/2 measure Raspberry Liqueur
Lemon Twist for Garnish
Combine VeeV, lemon juice and simple syrup in a cocktail shaker filled with ice. Shake until chilled. Strain into a chilled martini glass. Slowly and very carefully, pour raspberry liqueur directly in the middle of the cocktail so that it settles to the bottom of the well in the martini glass. Garnish with lemon twist. 
VeeV is definitely an excellent spirit alone or used as a mix-in with other premium spirits. It is versatile as a lightly flavored liqueur, but does not carry with it universal adaptability as the slogan "the end of vodka" might suggest. After all when it comes right down to it, VeeV is a flavored liqueur. Every cocktail created with VeeV will carry with it hints of this one flavor. The idea behind the world of spirits and cocktail creation is variety. Variety is definitely something vodka offers in spades with its bounty of flavorless choices and inoffensive aromas. Vodka is the clean palate to begin creating from for some. Some may even choose to build their creations with this wonderful liqueur, VeeV. 
VeeV sample for review courtesy representatives of VeeV.
Cheri Loughlin is a leading cocktail and photography resource for beverage companies, event planners, businesses and individuals. High resolution cocktail and beverage stock photography images are available in downloadable digital format in the newly redesigned Stock Photography Gallery at www.cheriloughlin.com.
Twitter, Facebook, StumbleUpon – str8upcocktails @ gmail.com – ©2012 Cheri Loughlin-The Intoxicologist, All Rights Reserved. All opinions, reviews and spirits' coverage are the personal opinion and decision of Cheri Loughlin.
VeeV: Remarkable Liqueur – Not Quite "The End of Vodka"