Though widely celebrated, St. Patrick's Day is not a nationally recognized holiday in the United States.  One would hardly discern this fact with all the fan fare that goes on from day break to last call, March 17, as busses roll into Irish pubs across the U.S. for "tours".  This typically green holiday no longer remains for the Irish only.  Cocktail culture frequently pushes the limits of conventional holidays by continually fine-tuning, modifying and revamping the "norm" or ordinary into the exceptional.  Rather than the usual shot of Irish Whiskey, Irish Car Bomb or green beer this St. Patrick's Day show your green spirit with these emerald hued 100% agave cocktails.
Tequila Mojito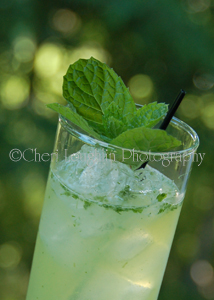 3 ounces Blanco Tequila
Juice of 1 Lime
1/2 ounce Premium Orange Liqueur
1-1/2 ounce Simple Syrup
5 fresh Mint Leaves – chopped
Club Soda
Mint Sprig Garnish
Quarter lime. Muddle half of lime in mixing glass with mint leaves. Add tequila, liqueur and simple syrup. Stir to chill. Pour into white wine glass. Top with soda water. Garnish with remaining lime and mint sprig.
Paradise lost
1-1/2 ounce Reposado Tequila
2 ounces Pineapple Juice
2 ounces Sprite or Tonic Water
1/8 cup Crushed Pineapple
1/2 ounce Premium Orange Liqueur
5 Mint Tops plus 1 Mint Sprig Garnish
Place all ingredients in cocktail shaker with ice. Shake gently to combine, being careful soda does not bubble over. Pour into Old Fashioned glass. Top with additional ice if necessary. Garnish with mint sprig.
Diamond Margarita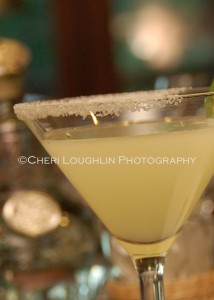 1-1/2 ounce Añejo Tequila
1/2 ounce Cointreau
1/2 ounce Grand Marnier
2-1/2 ounce Fresh Sour Mix
1 ounce Fresh Lime Juice
Lime Wheel Garnish
Place liquids in cocktail shaker with ice. Shake to blend and chill. Pour into salt rimmed martini glass. Garnish with lime wheel.
Don't let your St. Patrick's Day celebration turn into what some term "amateur night."  Please be responsible in your celebrations.
Cocktail recipes sponsored by representatives of El Diamante del Cielo Tequila.
Twitter, Facebook, StumbleUpon – str8upcocktails @ gmail.com – ©2012 Cheri Loughlin-The Intoxicologist, All Rights Reserved. All opinions, reviews and spirits' coverage are the personal opinion and decision of Cheri Loughlin.
St. Patrick's Day for the Tequila Minded: El Diamante del Cielo