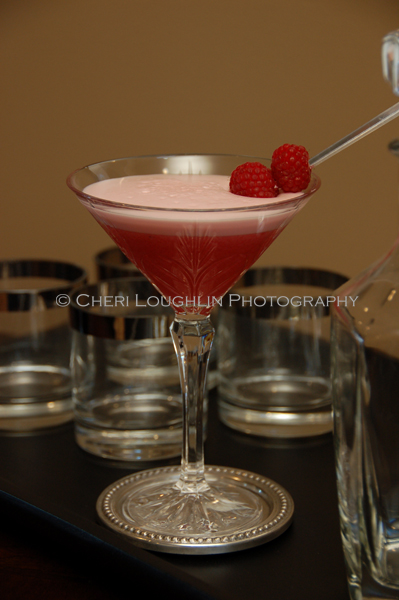 Though The Rose Club's Clover Club cocktail did not arrive in my glass quite as pink as the one shown here, it did win me over at first taste as light, refreshing and completely satisfying.  For those who say they do not like gin, the Clover Club just might be the cocktail to begin tippling the toes into the merry waters of gin.  This is not the stringent gin cocktail from days of yore. 
Try as I might to pay close attention to all the ingredients and the skill of the astute bartender, Heather Buesing, the recipe below is as close to their version as this recipe will venture.  My belief is bars and bartenders like to keep their best kept secrets close to the measuring cup, so I tend not to ask for exact measurements or take photos when out.  Trade secrets keep customers talking and keep them coming back.  Thank you Heather for great service and terrific cocktails!
Clover Club Classic Cocktail Adaption
Clover Club – Recipe adapted by Cheri Loughlin, The Intoxicologist
Inspiration: The Rose Club, The Plaza Hotel, NYC
Approximately 5 Fresh Raspberries
1-1/2 ounce Gin
1 Egg White*
1/2 ounce Fresh Lemon Juice
1/2 ounce Simple Syrup*
2 Fresh Raspberries Garnish
Muddle raspberries gently three or four times only.  Do not turn into mush.  Add Gin, egg white, lemon juice and simple syrup.  Dry shake vigorously.  Add ice to mixing tin.  Shake again to chill.  Strain into chilled cocktail glass.  Garnish with skewered fresh raspberries.  *If you have an aversion to fresh egg cocktails don't go without this classic.  Use pasteurized Egg Beaters Liquid Egg Whites instead in the portion specified as 1 measurement instead.  It isn't quite the same, but definitely worth sampling. Grenadine may be exchanged for simple syrup for more color and slight alteration in taste.
Interesting to note:
The earliest mention of the Clover Club cocktail is said to be in a 1909 Drinks – How to Mix and Serve book by Paul E. Lowe. The original cocktail creation is also credited to the Bellevue-Stratford Hotel in Philadelphia. The 1909 recipe is something along the lines of 1 ounce each Gin, Dry Vermouth, Lemon Juice, Raspberry Syrup and 1 small egg white. No garnish.
The Savoy Cocktail Book lists the Clover Club Cocktail with Juice of either 1/2 Lemon or Lime, 1/3 Grenadine, 1 Egg White and 2/3 Dry Gin. Directions: Shake well and strain into a medium size glass. 
Dale DeGroff's Essential Cocktail Book lists the Clover Club as 1-1/2 ounces Gin, 3/4 ounce Simple Syrup, 3/4 ounce Fresh Lemon Juice, 1/2 teaspoon Grenadine and 1 small Egg White.  Directions: Add liquids except egg white to cocktail shaker.  Whip egg white separately. Add half of whipped egg white to cocktail shaker and save the other half for another cocktail.  Shake cocktail shaker mixture.  Strain into chilled cocktail shaker.
Subscribe to the monthly Newsletter
All content ©2016 Cheri Loughlin, The Intoxicologist. All Rights Reserved. Chat with Cheri @Intoxicologist on Twitter and facebook.com/Intoxicologist
Cheri Loughlin is the Omaha writer and photographer behind www.intoxicologist.net and author of Cocktails with a Tryst: An Affair with Mixology and Seduction. You can email Cheri with comments and questions at str8upcocktails@gmail.com.
Classic Clover Club Cocktail Through The Rose Club Colored Glasses