The entire purpose behind the highly successful Bacardi Dragon Berry flavored rum and newest release, Bacardi Torched Cherry, appears to be fun, fun, fun.  To gain the highest enjoyment from summer lovin' fun, ease of preparation must be factored into the equation.  While splashes of cola or toppers of lemonade might be the first 'go to' mixer for Dragon Berry and Torched Cherry, fresh fruits of the season muddle up a few more tasty options without too much fuss. 
The next time you're thinking pool party, backyard barbeque or neighborhood cul-de-sac party, think brief recipe directions, a few bowls of fresh fruit, measuring utensils and Bacardi flavored rum.  Display ingredients on a table for guests to build their own cocktails.  This adds hands on enjoyment to the mix while allowing mingle time for the host.  All around summer fun and refreshment for all to enjoy!
Bacardi Dragon Berry Nectar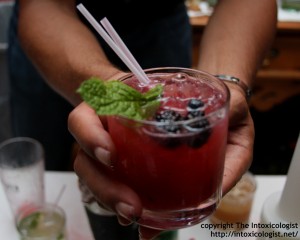 1/2 part Bacardi Dragon Berry Flavored Rum
1/2 part Bacardi Coconut Flavored Rum
1 part Simple Syrup
1 part Fresh Lime Juice
4 Fresh Blackberries
4 Lime Wedges
4 Fresh Raspberries
Muddle 3 each: raspberries, blackberries and lime wedges with simple syrup in a cocktail shaker.  Add rums, fresh lime juice and ice.  Shake until chilled.  Strain into glass of fresh crushed ice.  Garnish with remaining lime wedge and skewered berries.
Bacardi Torched Cherry Breeze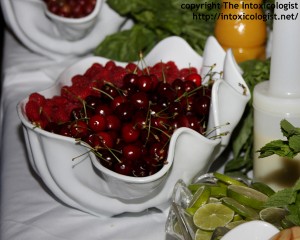 2 parts Bacardi Torched Cherry Rum
3 Slices Cucumber
1-1/2 parts Pineapple Juice
1 part Fresh Squeezed Lime Juice
1/2 part Simple Syrup
Mint Sprig Garnish
Muddle cucumbers and simple syrup in cocktail shaker.  Add remaining liquid ingredients.  Shake to chill.  Strain into highball glass over fresh ice.  Garnish with mint sprig.
Cheri Loughlin is a leading cocktail and photography resource for beverage companies, event planners, businesses and individuals. High resolution cocktail and beverage stock photography images are available in downloadable digital format in the newly redesigned Stock Photography Gallery at www.cheriloughlin.com.
Twitter, Facebook, StumbleUpon – str8upcocktails @ gmail.com – ©2012 Cheri Loughlin-The Intoxicologist, All Rights Reserved. All opinions, reviews and spirits' coverage are the personal opinion and decision of Cheri Loughlin.
Bacardi Dragon Berry & Torched Cherry Make Summer Entertaining a Breeze