The hum in the happy hour air this week sounds a lot like Bacardi Torched Cherry.  This little number arrived without red carpet or fan fare, but the buzz is significant.  The color might be clear, but the release of Dragon Berry prior to this puts this flavored rum expectation level at high alert cherry red.
According to the recent media release Bacardi Torched Cherry combines the flavors of Barbados cherries with the smooth infusion of Torch Plant aloe.  "Torch Plant aloe is a succulent, nectar-rich ingredient indigenous to South Africa.  It pairs ideally with Barbados cherries, also known as Acerola, a fruit that has recently received considerable attention for its versatility and sweet, robust flavor." – Bacardi media release.  As with all of their flavored rum products, Bacardi supplies a tremendous selection of recipes for consumers to enjoy.
Bacardi Torched Cherry Tasting
Aroma: Burnt cherries, such as reduced in sugar.  Cough drop cherry scent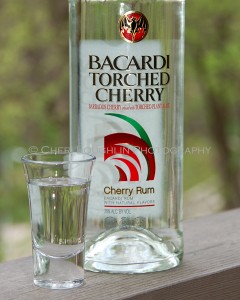 similar to the slim fruited cherry ones I used to love as a child.  They were more pleasant than medicinal with sugary cherry flavor.
Tasted Neat: Very sweet immediately with easy cherry flavor that almost instantly flips to artificial cough drop cherry.  A little disappointing.  The flavor continues cherry in the finish, but flattens. 
In my opinion Bacardi Torched Cherry is definitely meant for cocktail mixer rather than sipping independently.  The possibilities open wide with this one.  My thoughts go directly to recipes for fruit smoothies only rum versions.  Don't necessarily go straight for the easy road with cola and Sprite toppers.  Bacardi Torched Cherry will most likely mix well with banana (yes, banana), coconut and the usual suspects of cranberry and orange juice.  I am loving the fact Bacardi created a creamsicle style drink with equal parts Bacardi Torched Cherry, Premium Orange Liqueur, Orange Juice and Cream (Shake on ice and strain into shot glasses) which could be consumed on the rocks or in cocktail form depending upon preference. 
Berried Cherry – created by Cheri Loughlin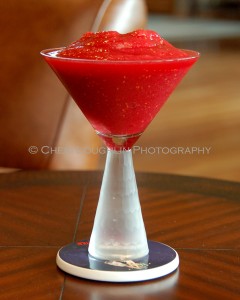 2 measures Bacardi Torched Cherry
1 cup unsweetened frozen Raspberries
3-1/2 measures Blueberry Juice
1/2 measure Simple Syrup
1 cup ice
Fresh Raspberries or Cherries Garnish
Combine all ingredients in a blender adding ice last. Blend until completely smooth. Pour into large cocktail glass. Garnish with fresh raspberries or cherries if desired.
This makes a great long sip for hot summer days.  Bacardi Torched Cherry remains predominant with layering of raspberry and blueberry. 
Torched Cherry Limeade – created by Cheri Loughlin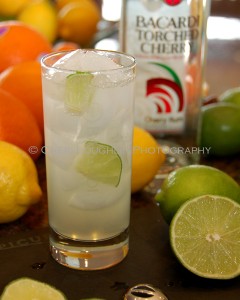 1-1/2 measure Bacardi Torched Cherry
1/2 Fresh Lime – Juiced
1/2 to 3/4 measure Simple Syrup – to taste
Club Soda
Quartered Lime Wedges Garnish
Place ice in highball glass. Add ingredients in order given with simple syrup to taste preference.  Top with club soda. Garnish with small lime wedges inserted in glass. Stir.
The most obvious drink for this particular flavor seems to be the popular cherry limeade.  Rather than simply mixing Bacardi Torched Cherry and limeade, an old school rendition turns out a pucker worthy recipe for refreshing, summer sipper.  This drink has me visualizing warm summer sun, afternoons full of cotton dresses and smart sexy ladies puckering up with perfectly glossed red lips to sip worthy straws plunged into Torched Cherry limeades lining poolside bars.  Get one while they last.
Bacardi Torched Cherry sample for review courtesy Corbin-Hillman Communications. 
Cheri Loughlin is a leading cocktail and photography resource for beverage companies, event planners, businesses and individuals. High resolution cocktail and beverage stock photography images are available in downloadable digital format in the newly redesigned Stock Photography Gallery at www.cheriloughlin.com.
Twitter, Facebook, StumbleUpon – str8upcocktails @ gmail.com – ©2011 Cheri Loughlin-The Intoxicologist, All Rights Reserved. All opinions, reviews and spirits' coverage are the personal opinion and decision of Cheri Loughlin.
Review: Bacardi Torched Cherry