This bottle of Bacardi Dragon Berry rum deceptively lures one into thinking it will be just another wanna be flavored spirit set to settle in a glass buried beneath soda pop.  Reading through the official Bacardi drink list of recipes it begins to seem that way before the crackling sound of the seal breaks on the bottle.
Single mixers: Dragon Berry plus Ginger Ale, Sprite, Lemonade, Iced Tea, Club Soda, Tonic Water or Sparkling Water.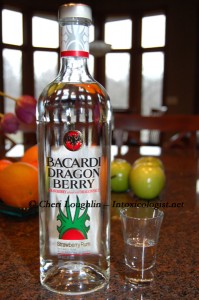 Pick your poison.  They are all variations on the exact same theme depending on your thirst preference.
The Bacardi Dragon Berry Double Mixer, Multi-Mixer and Shot Drink recipes however vary to the degree of easily mixable to muddling, unusual ingredients, and the "Wow" factor.  Dragon Berry Rum certainly turns on the flavor sensation.  All one need do is open the lid to know Bacardi figured this one out right on the money.  Dragon Berry smells precisely like sweet ripe strawberries.
Pour this liquid in a shot glass for a good look and you will notice it is a little thicker than the usual Bacardi Superior Rum.  The strawberry is definitely glossy sugared, but still appealing in its fruity aroma.  The Dragon Berry is quite sweeter than I expected even with the overwhelmingly deep strawberry scent, but this is still not sugared like liqueurs.  Bacardi Dragon Berry is neither syrupy nor saccharine in its feel or texture.  It is summery in feel, delightful and fun.  There is slight bite on the back end when taken in neat that is most likely due to the rum or the combination of rum and the hint of dragon fruit infusion.  Although I have never had the pleasure of sampling a piece of fresh dragon fruit, I have sampled dragon fruit juice.  It is a little blander than I anticipated.  Possibly it helps balance out the strawberry in this new exotic Bacardi creation.
To my surprise with the extensive drink list supplied by Bacardi no simple Daiquiri could be found on the entire listing.  Strawberries, rum and the Daiquiri go hand in hand.
Dragon Berry Daiquiri – created by Cheri Loughlin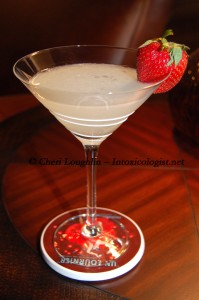 2 ounces Bacardi Dragon Berry Flavored Rum
1 ounce Fresh Lime Juice
1/2 ounce Simple Syrup
Fresh strawberry for Garnish
Combine liquid ingredients in a cocktail shaker with ice.  Shake for fifteen seconds.  Strain into a martini glass.  Garnish with whole strawberry.
The fresh lime softens the flavored rum giving this a strawberry vanilla feel.  Even with the addition of bar syrup, this is not too sweet.  There is creaminess in the texture with an almost adult bubblegum feel.  If bubblegum were silky, supple, without the sugared roughness and all that remained was the fresh feeling of fun, lightness and vanilla strawberry, this would be the Dragon Berry Daiquiri.  It is also the flavored fun cocktail that is not pink.
Strawberries and kiwi are two fruits that complement each other in exciting ways.  Fresh strawberry adds a little tangy tart bite while kiwi plugs in the juicy sweet.
Dragon Berry Kiwi Chaos – created by Cheri Loughlin
3 Fresh Strawberries – halved
1 Kiwi – peeled and quartered
1/2 teaspoon Lime Curd
1/2 ounce Fresh Lime Juice
1/4 ounce Simple Syrup
2 ounces Bacardi Dragon Berry Flavored Rum
Fresh Strawberry for Garnish
Muddle fresh fruit, lime curd, lime juice and bar syrup in the bottom of a cocktail shaker.  Add in Bacardi Dragon Berry Flavored Rum with ice.  Shake for fifteen seconds.  Strain into a martini glass.  Garnish with a fresh strawberry.
While this is more labor intensive than the Dragon Berry Daiquiri and possibly too time consuming for most bars in a time crunch, the Dragon Berry Kiwi Chaos is definitely worth the effort for the fresh taste alone.  The kiwi cuts through any artificial sweetness one might detect while the fresh strawberry draws out the real fruit flavor.  There is still a hint of vanilla in this cocktail although obviously none added in the recipe.  Is it the rum, the dragon fruit infusion, the flavored strawberry or another flavor added to this particular rum blend?
Inspiration strikes anywhere.  It took me two days to run down rhubarb locally.  Evidently this vegetable is quite popular.  Although in the produce section it is a veggie, it is found in the fruit section in frozen foods for those of you on the hunt.
Whipped Strawberry Shortcake – created by Cheri Loughlin
1-1/2 ounce Bacardi Dragon Berry Flavored Rum
1 ounce Half & Half
1/2 ounce Rhubarb Strawberry Syrup*
Fresh Strawberry for Garnish
Build over ice in the order given.  Garnish with Strawberry.  Insert a stir stick as this settles in the glass.  Stir.  This cocktail could perhaps be shaken over ice and served straight up as well.
*Rhubarb Strawberry Syrup
12 ounces Frozen Rhubarb
6 ounces Frozen Strawberries
3 cups Sugar
3 cups Water
Place rhubarb, sugar and water in a large saucepan over low heat.  Slowly cook for about an hour while continuing to stir occasionally.  The mixture should never actually bubble, but heat slowly to soften the rhubarb bringing out the sweetness.  As the mixture finally heats to a degree that it does begin to bubble, place the strawberries in the saucepan.  You will need to stir more frequently.  Allow the strawberries to cook in for about fifteen to twenty more minutes before removing from the heat.  Do not allow the mixture to cool completely before beginning to strain into a tempered glass container.  As it cools it will be more difficult to strain due to the thickness.  This does not render a lot of usable syrup as much of what is left over is pulp to throw away.  After you have strained, allow the mixture to cool and refrigerate.  The syrup will stay fresh in the refrigerator in a sealed container for approximately two weeks.
I have never tasted rhubarb before, nor have I ever had the pleasure of rhubarb strawberry pie.  What I can tell you is this cocktail is an ideal replica for strawberry shortcake with a huge dollop of whipped cream  on top that makes me want to sip it up and have another please…pretty please, with a strawberry and whipped cream.   I would even bat my eyes if that would help, but hey, I am making this drink and no eyelash fluttering is necessary.
Yes, the syrup takes some time.  The leftover part of the syrup that is unusable for bar syrup in drinks is perfectly usable for ice cream or the foodie version of strawberry shortcake.  Take the time to make this one if you love this particular dessert.  You can have your dessert and drink it, too.
While creating in the kitchen the other day I whipped up kiwi syrup as well.  Muddling is a lot of work to add in kiwi flavor.  Making syrup is too, but once made it lasts longer than one cocktail.
Dragon Berry Kiwi Club – created by Cheri Loughlin
2 ounces Bacardi Dragon Berry Flavored Rum
1/2 ounce Kiwi Syrup*
Club Soda to top
Strawberry & Kiwi for Garnish
Build in a Collins glass over ice.  Garnish with skewered strawberries and kiwi.
*Kiwi Syrup
1 cup Water
1 cup Sugar
3 Kiwi – peeled & quartered
Add ingredients to a saucepan.  Simmer over low heat until the kiwi softens significantly (approximately 20 to 25 minutes).  Allow syrup to cool.  Strain into a glass container.  Seal and refrigerate.  Syrup should stay fresh for approximately two weeks in the refrigerator.
The Dragon Berry Kiwi Club is easy, breezy, refreshing.  It is a little sweet for my taste, but the degree of syrup may be adjusted according to your taste.
Bacardi Dragon Berry Flavored Rum sample for review courtesy representatives of Bacardi Rum.
Twitter, Facebook, StumbleUpon – str8upcocktails @ gmail.com – ©2012 Cheri Loughlin-The Intoxicologist, All Rights Reserved. All opinions, reviews and spirits' coverage are the personal opinion and decision of Cheri Loughlin.
Bacardi Dragon Berry Rum: Fun, Fresh, Easily Mixable