If you listen closely in the distance the constant buzz and commotion of a fan base simmering with enthusiasm for the love of football can be heard before the first leaf of fall drops from the trees.  Love of football begins with small towns and little leagues to Friday night high school cross town rivalries and continues through college and beyond.  Living for the weekend isn't just a saying when football season begins.  It makes Monday a little more bearable when the work week rolls around too.  Thank goodness for that little thing called Monday night football.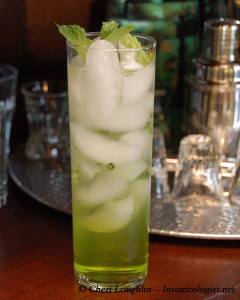 Go Team! – created by Joel Meister, Chicago
2 Lime Wedges
5 – 8 Mint Leaves
1/2 ounce Simple Syrup
1 ounce Stolichnaya Vanil Vodka
1 ounce Stolichnay Ohranj Vodka
1/2 ounce Midori Melon Liqueur
Club Soda
Muddle lime wedges and mint leaves with simple syrup in bottom of mixing glass.  Add ice, vodkas and liqueur.  Shake to blend and chill.  Strain into highball glass over fresh ice.  Top with club soda.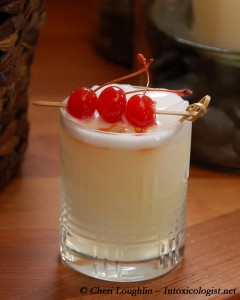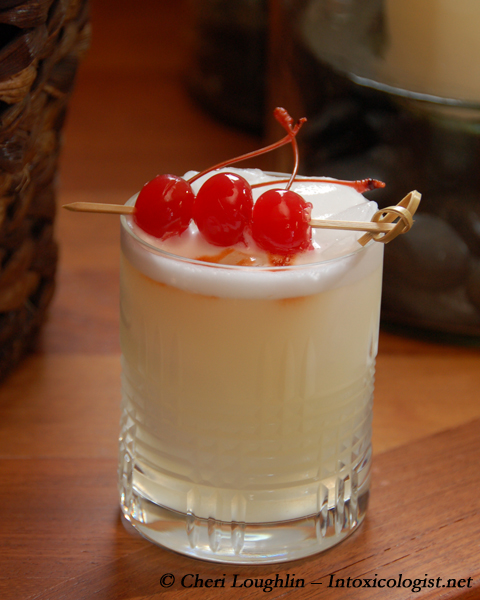 Chicago Sour – adapted by Cheri Loughlin
2 parts Effen Cherry Vodka
1 part Simple Syrup
3/4 part Fresh Lemon Juice
1 Egg White – optional
3 drops Angostura Bitters
Skewered Maraschino Cherries Garnish
Place liquids (and optional egg white if including) in cocktail shaker with ice. Shake thoroughly until frothy. Strain into rocks glass over fresh ice. Add bitters to top of drink. Garnish with skewer of maraschino cherries. Pasteurized Egg Beaters can be used in place of fresh egg whites if desired.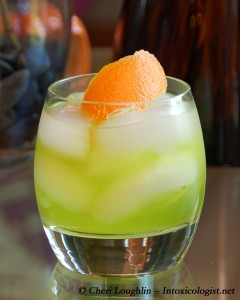 Green Sneaker
2 parts Vodka
1/2 part Melon Liqueur
1/2 part Triple Sec
1/2 part Orange Juice
Place liquids in cocktail shaker with ice. Shake to blend and chill. Strain into chilled cocktail glass or strain into rocks glass over fresh ice. Garnish with orange wedge.

Twitter, Facebook, StumbleUpon or Email: str8upcocktails @ gmail.com. Copyright 2010 Cheri Loughlin – The Intoxicologist – All Rights Reserved. All opinions, reviews and spirits' coverage contained within are the personal opinion and decision of Cheri Loughlin, The Intoxicologist.
Monday Night Football Kickoff Cocktails