Tonight the Philadelphia Eagles take to the field in a Monday Night Football match-up against the Washington Redskins. As teams battle it out on the gridiron, fans rally for their favorites in the stands, in sports bars and gathered with friends in the comfort of their own homes.  Cheer your team to the final win by showing spirit for the game.  Two fun drinks to help rally the Eagle spirit are listed below.
Soaring with Eagles – adapted by Cheri Loughlin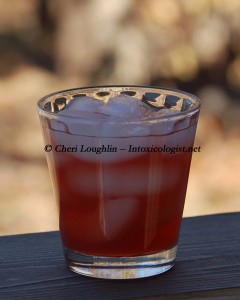 1-1/2 ounce Gin
1 ounce Crème Yvette
1/2 ounce Lemon Juice
1/8 to 1/4 ounce Simple Syrup
Build cocktail over fresh ice in rocks glass. Stir.
Though Soaring with Eagles does not show team spirit through color, this fresh flavored drink inspires through taste. This version has been adapted from a more time consuming frozen drink by the name of Eagle Dream using fresh egg whites and caster sugar. Crème de Violette may be used in exchanged for Crème Yvette.
Green Genie
1 part Green Chartreuse
1 part Tequila
Place spirits in mixing glass with ice. Stir to chill. Strain into chilled shot glass or serve in rocks glass over fresh ice.
More Football and Tailgating recipes may be found in the right hand sidebar listed by individual drink name. As always, please sip responsibly.
Find The Intoxicologist on Twitter, Facebook, StumbleUpon or Email: str8upcocktails@gmail.com
www.discus.org – Distilled Spirits Council of the United States
Copyright 2010 Cheri Loughlin – The Intoxicologist – All Rights Reserved
All opinions, reviews and spirits' coverage contained within are the personal opinion and decision of Cheri Loughlin, The Intoxicologist.
Monday Night Football Drink Recipes Soar with the Eagles