The original Hurricane was created at Pat O'Brien's in New Orleans out of necessity during World War II when rum was abundant and other liquors were in short supply. If bar owners wanted to purchase whiskey which was a high demand/short supply commodity, liquor salesmen would require bulk purchase of lower demand/high supply spirits such as rum. The recipe for the Hurricane evolved due to an effort to keep the stockpile of rum flowing out of the bar enabling a supply of whiskey to keep flowing in.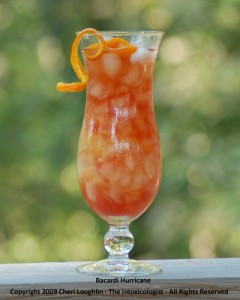 Hurricane
1 ounce Dark Rum
1 ounce Light Rum
1/2 ounce Galliano
3/4 ounce Fresh Lime Juice
2 ounce Passion Fruit Nectar or Passion Fruit Syrup
2 ounce Fresh Orange Juice
2 ounce Pineapple Juice
1 ounce Simple Syrup
Dash of Angostura Bitters
Orange Wheel, Lime Wheel & Pineapple Chunk Garnish
Combine liquids in cocktail shaker with ice. Shake to blend. Strain into hurricane glass over fresh ice. Garnish with skewered fruits. Notation: The Hurricane is not named for the seasonal weather of New Orleans. The cocktail is served in a glass that mimics the shape of a hurricane lamp. Thus it is named due to the curvaceous glass.
The original Hurricane of New Orleans offers much more for those who look to quench the thirst of the masses. Club 360 of New Orleans modified the classic cocktail into a punch style recipe for easier serve.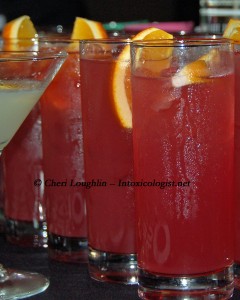 Club 360's Hurricane
24 ounces Pineapple Juice
24 ounces Orange Juice
8 ounces Light Rum
8 ounces Grenadine
8 ounces Dark Rum, preferably Myers's
Orange Wheels & Maraschino Cherries Garnish
Combine liquids in large pitcher or container. Stir. Refrigerate at least two hours. Stir before serving. Fill old fashioned glasses with ice. Fill. Garnish with skewered fruit. Notation: Club 360 omits the dark rum as liquids are mixed and refrigerated, saving it as a float on top of the cocktail as it is served. Mix and serve as you prefer.
More New Orleans classic cocktails may be found by following the link.
Find The Intoxicologist on Twitter, Facebook, StumbleUpon or Email: str8upcocktails@gmail.com – Copyright 2011 Cheri Loughlin – The Intoxicologist – All Rights Reserved – All opinions, reviews and spirits' coverage contained within are the personal opinion and decision of Cheri Loughlin, The Intoxicologist
Classics Take to the Punch Bowl