While nothing will ever replace the classic Manhattan, Beam Global Wine & Spirit's release of Red Stag by Jim Beam opened the door for innovation and a twist on the traditional.An adaptation of the Manhattan that includes both Jim Beam Original and Red Stag by Jim Beam might win over a few more bourbon newbies.
Stag Manhattan – created by Cheri Loughlin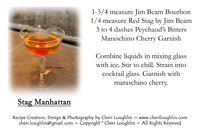 1-3/4 measure Jim Beam Original Bourbon
1/4 measure Red Stag by Jim Beam
3 to 4 dashes Peychaud's Bitters
Maraschino Cherry Garnish
Combine liquid ingredients in a cocktail shaker over ice.  Shake thoroughly.  Strain into a small cocktail glass.  Garnish with cherry.
The black cherry flavor of the Red Stag still takes a more prominent place in the cocktail than sweet vermouth would, but this is a variation rather than the classic drink.  This will never take the place of an original Manhattan, but it may indeed bring non-traditional bourbon drinkers to the table for a taste of something a little different than their usual taste of base spirits.
Cheri Loughlin is a leading cocktail and photography resource for beverage companies, event planners, businesses and individuals. High resolution cocktail and beverage stock photography images are available in downloadable digital format in the newly redesigned Stock Photography Gallery at www.cheriloughlin.com.
Twitter, Facebook, StumbleUpon – str8upcocktails @ gmail.com – ©2011 Cheri Loughlin-The Intoxicologist, All Rights Reserved. All opinions, reviews and spirits' coverage are the personal opinion and decision of Cheri Loughlin.