Hint of vanilla and marshmallow, most likely from the rum. Lush fruit. Just enough citrus.
Scarlet Pirate – created by Cheri Loughlin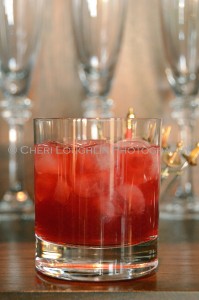 2 measures Spiced Rum*
1 measure Pomegranate Juice
3/4 measure Lemon Juice
1/2 measure Premium Orange Liqueur*
Combine liquids in large rocks glass over fresh ice. Stir.
*RonDiaz Spiced Rum & 03 Premium Orange Liqueur (samples provided by representatives of RonDiaz Rum and 03 Premium Orange Liqueur)
There was also a suggestion to use Limon Rum in place of the Spiced Rum and leave out the Lemon Juice all together. Mix things up a bit and rely on your own taste preference for playful tasting.
Cheri Loughlin is a leading cocktail and photography resource for beverage companies, event planners, businesses and individuals.
High resolution cocktail and beverage stock photography images are available in downloadable digital format in the newly redesigned Stock Photography Gallery at www.cheriloughlin.com.
Twitter, Facebook, StumbleUpon – str8upcocktails @ gmail.com – ©2011 Cheri Loughlin-The Intoxicologist, All Rights Reserved. All opinions, reviews and spirits' coverage are the personal opinion and decision of Cheri Loughlin.