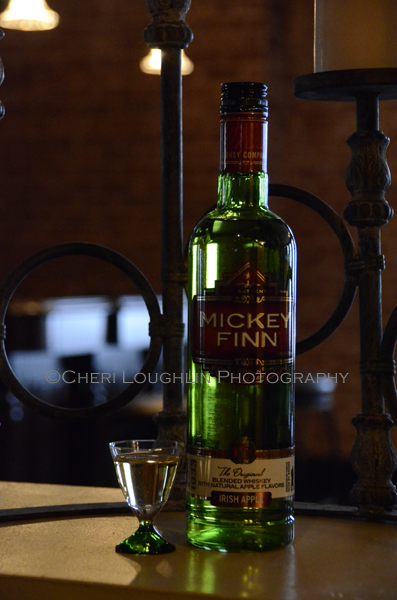 The original blended whiskey with natural apple flavors.
70 Proof / 35% alcohol
Suggested Retail Price: $25 range / 750ml Bottle
Availability: Made available in major U.S. markets in spring of 2012
Mickey Finn Irish Apple Liqueur Tasting Notes
Color: Pale. Light Straw.
Aroma: Definitely apple. Tart, crisp, green apple. Sweetness is light, but there. Apple skin like a Gala apple. No burn.
Tasted Neat: Oh yes, this is sweet. No syrupy sweetness, but light sweet. Good job with the apple notes. Doesn't come off as artificial at all. Warm cider comes to mind. Bit of rugged edge lets you know it is not just juice here. Warms nicely.
Mouth Feel: Thin
Possible Uses, Pairings and / or Cocktails:
I might pair this with lemon juice, simple syrup and ginger ale for a long drink; tweaking to taste of course. Could also be enjoyed simply as is or on the rocks. Fun, playful Irish whiskey. Might also warm nicely hot toddy style or this would make a terrific apple pie cocktail for fall.
South Side Appletini
2 ounces Mickey Finn Irish Apple
2 ounces Cranberry Juice
Lime Wedge
Lime Wheel Garnish
Combine liquids in cocktail shaker with ice. Add squeeze of lime. Shake to blend and chill. Strain into chilled martini glass. Garnish with lime wheel.
Review sample courtesy representatives of Mickey Finn Whiskey
Twitter, Facebook, StumbleUpon – str8upcocktails @ gmail.com – ©2012 Cheri Loughlin-The Intoxicologist, All Rights Reserved.
Review: Mickey Finn Irish Apple Liqueur