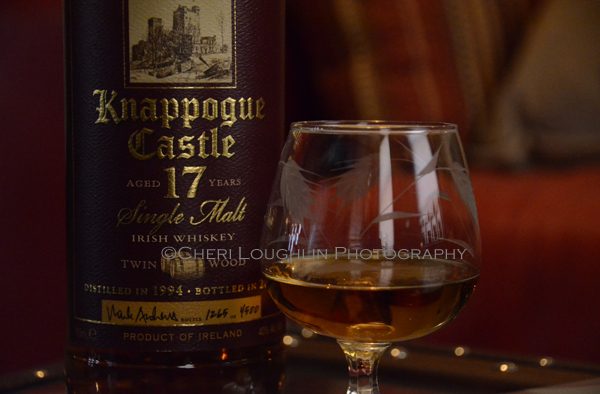 Limited edition single malt Irish Whiskey. The second offering of Twin Wood; whiskey aged in two types of wood. Bottle 1265 of 4500. Sherry Finish. Pure Irish spring water and malted barley.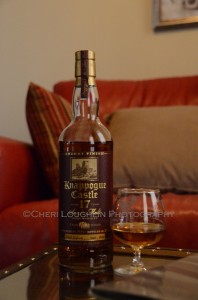 80 Proof / 40% alcohol
Suggested Retail Price: $100
Availability: Limited quantity, available nationwide in February 2012
Knappogue Castle Twin Wood 17 Yr Single Malt Irish Whiskey Tasting Notes
Color: Dark auburn with gold highlights
Aroma: Light. Faint sweetness. Barely there green apple, maybe pecan with dry walnut skin. Roundness depicting a lush fruit.
Tasted Neat: Nut skin dryness. Too thin to be "chewy" but has light notes of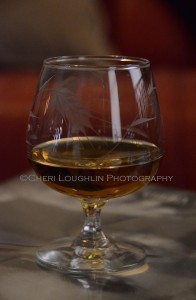 wonderful dark, rich fruitcake. Bit of peach pit. Very little burn.
Mouth Feel: Light. Upper end of thin.
Possible Uses, Pairings and / or Cocktails:
I am particularly fond of cooking with whiskey. This one is no different. I think it would be fabulous as a marinade base for pork loin. This would also be especially enjoyable to sip while relaxing fireside.
Knappogue is pronounced nah-POGUE' (like brogue)
Review sample courtesy representatives of Castle Brands
Twitter, Facebook, StumbleUpon – str8upcocktails @ gmail.com – ©2012 Cheri Loughlin-The Intoxicologist, All Rights Reserved.
Review: Knappogue Castle Twin Wood 17 Single Malt Irish Whiskey