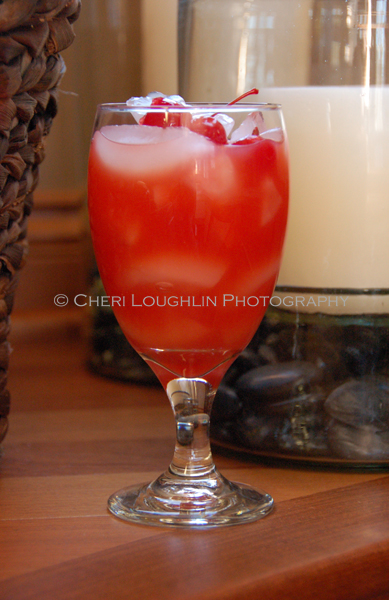 Wicked Cherry Fizz offers a blood thirsty sip and non-alcoholic option to your spirited celebrations. Wicked Cherry Fizz is an easy two ingredient drink. Providing cocktails and non-alcoholic options for party guests is the equivalent to offering a variety of food options. Most hosts would never think to only offer guests one chip and nothing else. Why offer guests cocktails only. Widen the drink offering.
Wicked Cherry Fizz Mocktail Recipe
Wicked Cherry Fizz
1/2 cup Concentrated Cherry Juice
1/2 cup Ginger Ale
Fresh Cherries Garnish
Place ice in high ball glass. Add cherry concentrate. Top with ginger ale. Stir slowly. Garnish with skewered cherries. Alternative: Place liquids in blender with ice for slushy type drink. Blend until all ice is completely crushed.
Wicked Cherry Fizz could be renamed to just Cherry Fizz to be included in later holiday celebrations. The color makes it an ideal option for Thanksgiving and Christmas gatherings.

All content ©2012 Cheri Loughlin, The Intoxicologist. All Rights Reserved. Chat with Cheri @Intoxicologist on Twitter and facebook.com/Intoxicologist or str8upcocktails@gmail.com