Ease into the work week with a fizzy fruited recipe sure to kick start your Monday. Mix up this fruit filled drink recipe for the entire office and offer up a toast to starting the week off just peachy! 
Peach Fizz – created by Cheri Loughlin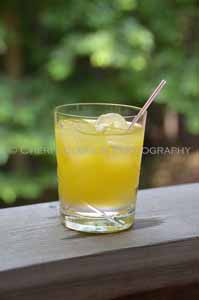 1 – 32 ounce bottle Peach Bellini Cocktail Mixer – non-alcoholic
1 – Quart bottle Peach Nectar
12 ounces Pineapple Juice
Club Soda
Grenadine
Peach Slice or Lemon Twist Garnish – optional
Combine Peach Bellini Cocktail Mixer, peach nectar and pineapple juice together in a pitcher.  Stir. Pour into a tall glass over ice leaving an inch and a quarter at the top of the glass. Top off with Club Soda. Add a splash (1/4 to 1/2 ounce) of grenadine drizzled over the top. The Peach Fizz is also perfect for parties since it is a pitcher size recipe.
Twitter, Facebook, StumbleUpon – str8upcocktails @ gmail.com – ©2012 Cheri Loughlin-The Intoxicologist, All Rights Reserved. All opinions, reviews and spirits' coverage are the personal opinion and decision of Cheri Loughlin.