Merry Christmas!
The Intoxicologist wishes you and yours a very happy holiday! I hope you enjoy a pleasant day filled with laughter and smiles. A drop or two of spirited cheer would be grand, too!
The Paisley Martini is similar to a Smoky Martini. A typical Smoky Martini usually contains 2 ounces Gin and 1/4 ounce Scotch of choice. The liquids are stirred with ice and served neat in a chilled martini glass. A lemon twist garnish is appropriate. The Paisley Martini brings dry vermouth to the glass for a wee bit of smoky restraint.
Paisley Martini Recipe Card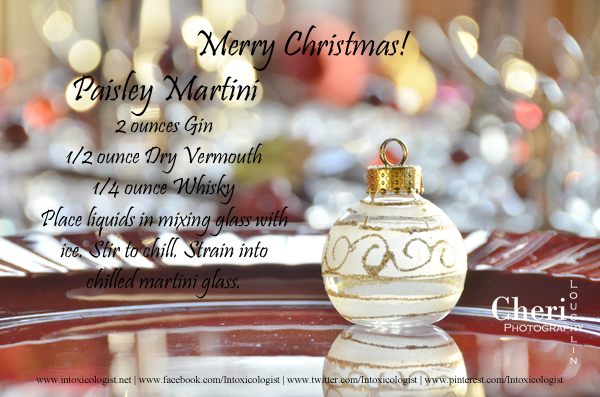 Click on the recipe card for full size. Right click to save to your personal computer. Share with friends and family for personal use only please.
All content ©2013 Cheri Loughlin, The Intoxicologist. All Rights Reserved. Chat with Cheri @Intoxicologist on Twitter and facebook.com/Intoxicologist or str8upcocktails@gmail.com
Merry Christmas Paisley Martini Recipe Card