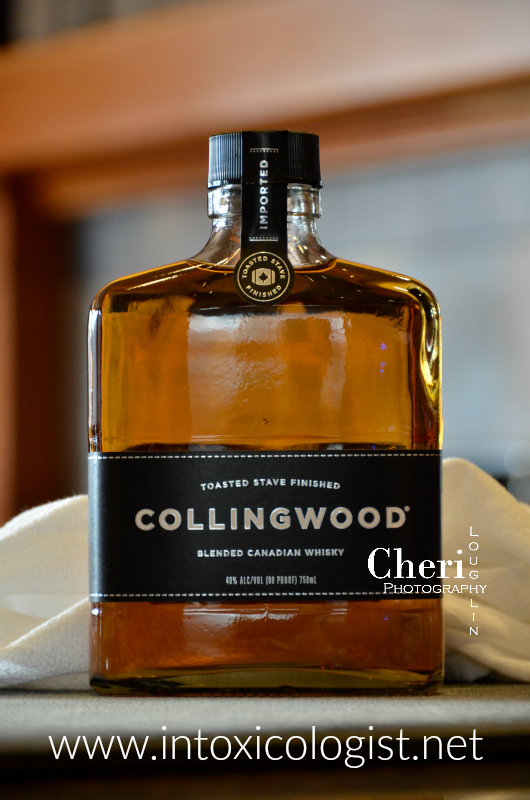 Collingwood Canadian Whisky, recipes and cocktail photos provided by brand representatives. All bottle and tasting note photos, comments and opinions are my own unless otherwise stated.
Collingwood Canadian Whisky was first introduced in 2011. Read my review from 2011 here. Since that time the bottle has been redesigned. For the better if you ask me. Though the other one was lovely, I wasn't completely fond of the bottle top.
If you clicked over to read my earlier review, you'll notice my tasting notes differ from the notes below. It's amazing how much our taste buds change over the years. Every taste experience we have on a day to day basis changes and matures the way we think about aroma and flavor. That's why it's always a good idea to read reviews from several sources before making a final decision on a spirit.
Collingwood Canadian Whisky Tasting Notes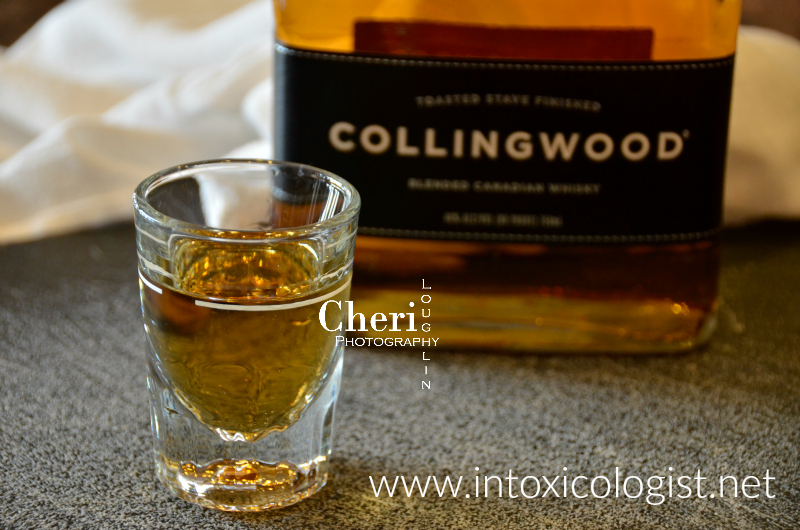 Availability: Nationwide in the United States and Canada. Average price $29.00 for 750ml bottle. 40% alcohol by volume or 80 proof.
Dark golden in color.
Aroma: Buttery with faint toffee. No burn on the nose at all.
Taste: Thin with burn on the tongue. Coffee and chocolate notes with the tiniest bit of chewiness. Light sweetness. I get the feel of quality fruitcake with hints of spice. Plum, full-bodied fruit and nut flavors rather than candied fruit flavors so often associated with fruitcake. Dark richness in the fruit. Faint smoke flavor that the lightest of scotches contain. Perhaps this is due in part to the toasted Maplewood staves used in the last phase of maturation.
On ice: Figgie with walnut. Warmth replaces the burn from a straight pour. Caramel mingled with mocha. Nice long finish.
Distiller notes suggest the following:
Aroma: Graham cracker sweetness with delicate notes of vanilla, caramel and butterscotch underpinned by a rich rose petal and fruit character.
Taste: Creamy with a prickly vibrancy that fades into a delicate marzipan dusted grain note. Faint hints of maple syrup drift about. Nice complexity.
Finish: Warm, sweet and long with a lingering of floral and light malt whisky character.
Collingwood Canadian Whisky Cocktails
Sip Collingwood neat, on the rocks or choose a cocktail or two from the recipes provided below: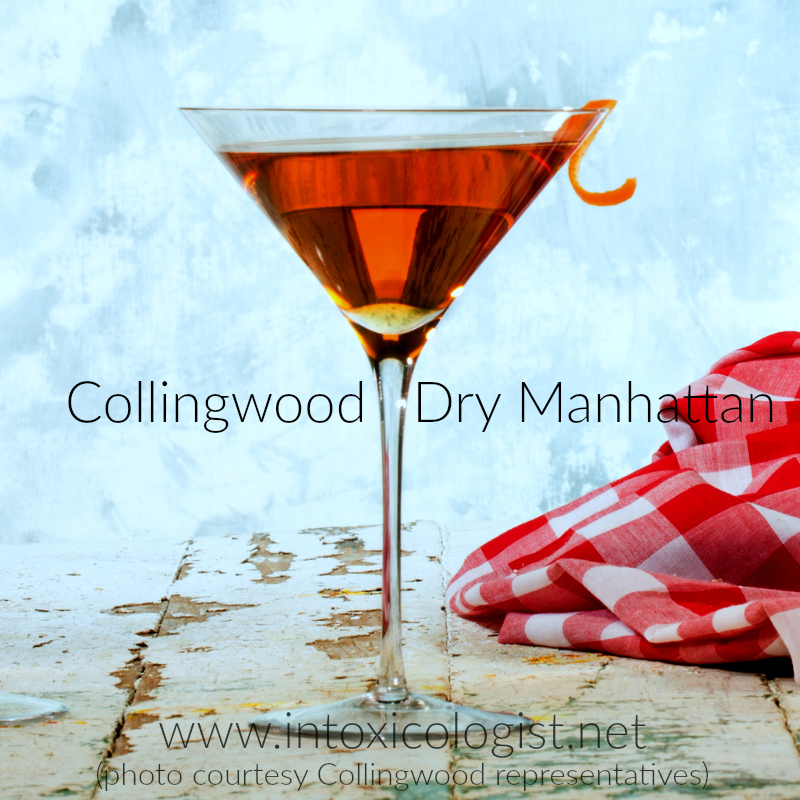 Collingwood Dry Manhattan
2 ounces Collingwood Canadian Whisky
1/2 ounce Extra-dry Vermouth
3 dashes Orange Bitters
Lemon Twist
Place liquids in a mixing glass with ice. Stir until well chilled. Strain into a chilled martini glass. Garnish with fresh lemon twist.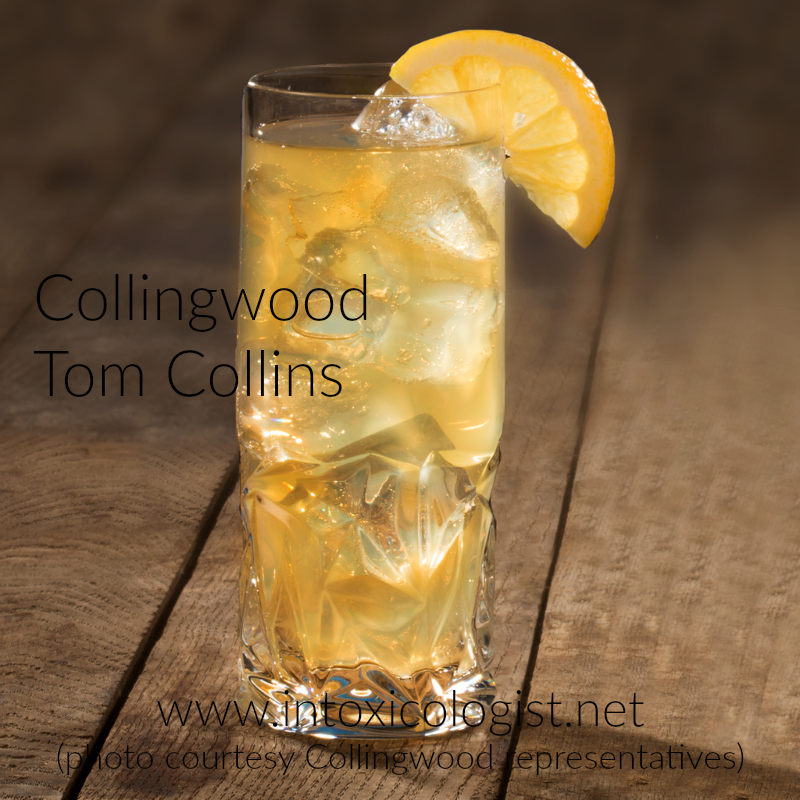 Tom Collingwood
2 ounces Collingwood Canadian Whiskey
1 ounce Fresh Lemon Juice
3/4 ounce Simple Syrup
2 ounces Club Soda
Lemon Wheel
Build ingredients in the order given in a highball glass with ice. Stir briefly. Garnish with lemon wheel.
Collingwood Sour
1-1/2 ounces Collingwood Canadian Whisky
3/4 ounce Simple Syrup
3/4 ounce Fresh Lemon Juice
Lemon Twist and Maraschino Cherry Garnish
Place all liquid ingredients in a cocktail shaker with ice. Shake briefly. Strain into a rocks glass over fresh ice. Garnish with lemon twist and maraschino cherry.
Collingwood Canadian Mule
1-1/2 ounce Collingwood Canadian Whisky
3 ounces Ginger Beer
1/2 ounce Lime Juice
Lime Wedge
Place ice in a copper mug or tall glass. Add whisky and lime juice. Top with ginger beer. Garnish with lime wedge.
Find Collingwood on Facebook. Follow @collingwoodwhisky on Instagram. Stay tuned for the official Collingwood website coming soon.
Subscribe to the monthly Newsletter
All content ©2016 Cheri Loughlin, The Intoxicologist. All Rights Reserved. Chat with Cheri @Intoxicologist on Twitter and facebook.com/Intoxicologist
Cheri Loughlin is the Omaha writer and photographer behind www.intoxicologist.net and author of Cocktails with a Tryst: An Affair with Mixology and Seduction. You can email Cheri with comments and questions at str8upcocktails@gmail.com.
Collingwood Canadian Whisky Review