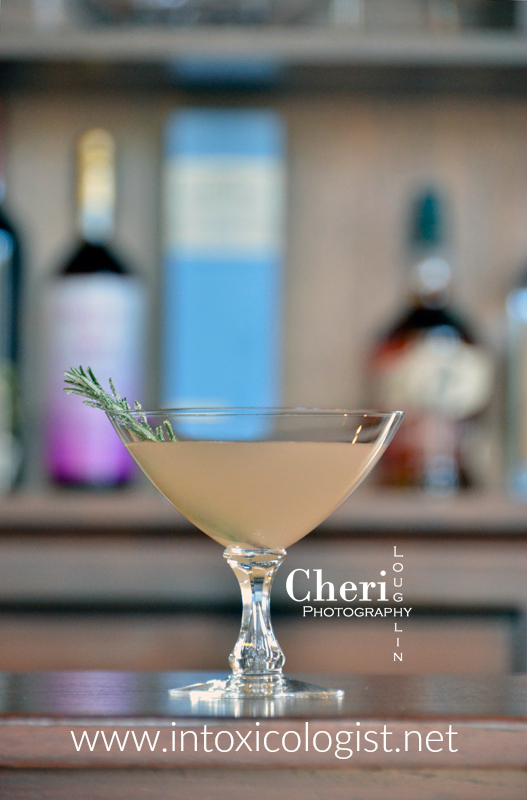 Ménage à Trois vodka provided by brand representatives for a Galentine's Day cocktail development contest among bloggers. All photos, recipes and comments are my own unless otherwise stated.
You might be wondering what in the heck is Galentine's Day. When Ménage à Trois vodka representatives contacted me about participating in a cocktail challenge I didn't know what Galentine's Day was either. So I Googled it.
What is Galentine's Day?
Galentine's Day was the brain child of Amy Poehler's character, Leslie Knope of NBC's Parks and Recreation. Once a year Leslie and her friends get together for breakfast / brunch and exchange some pretty odd gifts. The gifts are a nod to each individual's interests and / or talents.
So that's pretty cool, right?! It's a little like Girls Night Out with goodie bags.
Ménage à Trois sent me a goodie bag filled with three flavored vodkas (original, citrus, and berry), a little container of cute M&M's printed especially for Ménage à Trois and Galentine's Day, a couple of shot glasses, photo booth props and an invitation to create a cocktail for the most girlie of gatherings.
I chose to use the citrus flavored vodka for my cocktail. I wanted to do something light and fun, but not too sweet. A citrus Gimlet was the first thing that came to mind, but I found that someone had already beaten me to that classic cocktail variation. The Cosmo has been done to death. Besides, the original is pretty perfect when made correctly. I ultimately decided to pair this citrus vodka with fresh grapefruit and rosemary. The results were quite refreshing.
Lady Mafia Galentine's Day Recipe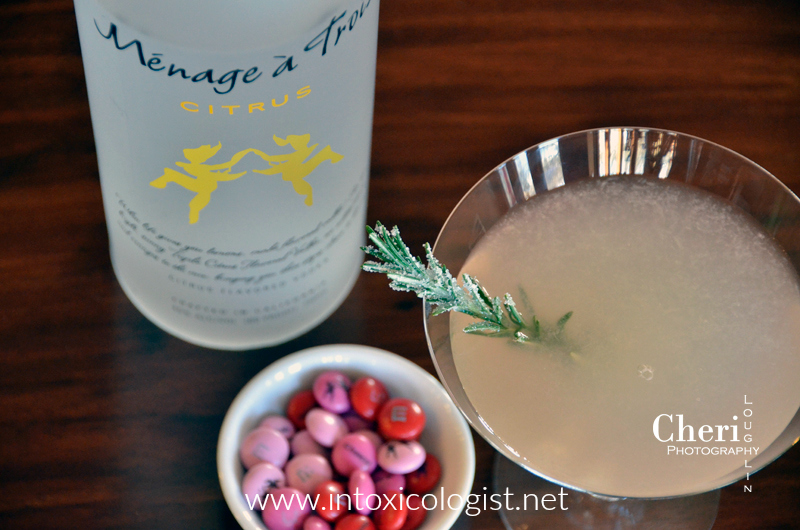 Lady Mafia is beautiful pale pink in color. The flavor is fun, fruity with lots and lots of citrus aroma. Fresh grapefruit juice is the real winner in this cocktail. It works wonderfully with citrus vodka. Grapefruit brightens the sharp citrus notes with fresh, fruit forward flavor. Fresh rosemary adds wonderful aroma and pairs nicely with grapefruit. The sprinkling of sugar is optional but I think it adds a splash of whimsy to the cocktail.
Lady Mafia – recipe by Cheri Loughlin
2 ounces Ménage à Trois Citrus Vodka
1/2 ounce Cointreau Orange Liqueur
1 ounce Fresh Grapefruit Juice
1/2 ounce Fresh Lemon Juice
1/4 ounce Simple Syrup
Sugar Coated Rosemary Sprig Garnish
Spritz a fresh rosemary sprig with water. Shake off excess. Lightly sprinkle rosemary sprig with sugar. Gently press rosemary sprig in excess sugar to thoroughly coat. Set aside. Place liquid ingredients in a cocktail shaker with ice. Shake to blend and chill. Strain into a chilled cocktail glass. Garnish with sugared rosemary sprig.
You can find more Galentine's Day cocktails using  Ménage à Trois Vodkas by following this #MATVGalentinesDay on social media channels. Follow Ménage à Trois on Facebook.
Ménage à Trois Citrus Vodka Tasting Notes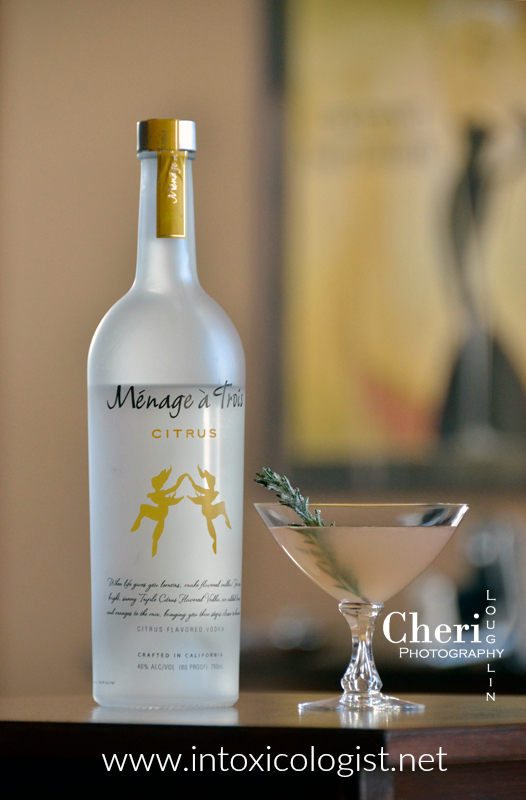 80 proof / 40% abv
The citrus flavored vodka bottle leaked during transport leaving a very sticky bottle. The stickiness lead me to believe this flavor would be a little sweet. If you've ever let a few drops go uncleaned on a liqueur bottle, you know how sticky that can get. Surprisingly, the vodka wasn't sugary at all.
Ménage à Trois Citrus Vodka is clear of course. The aroma is lemon citrus like the aroma that wafts up from a bag of SweeTARTS. Only in this case there isn't any powdery mess. It smells light without any burn on the nose. There is a mix of lemon with faint orange.
Tasted neat there is immediate burn, but that's to be expected. There is some sweetness from the citrus flavor, but again not sugary like I thought it might be. Lemon is the first thing I tasted, but orange began to slip in and stayed in the lingering aftertaste. The flavor is sharp citrus making this a good base for the cocktail I ultimately created.
Subscribe to the monthly Newsletter
All content ©2016 Cheri Loughlin, The Intoxicologist. All Rights Reserved. Chat with Cheri @Intoxicologist on Twitter and facebook.com/Intoxicologist
Cheri Loughlin is the Omaha writer and photographer behind www.intoxicologist.net and author of Cocktails with a Tryst: An Affair with Mixology and Seduction. You can email Cheri with comments and questions at str8upcocktails@gmail.com.
Ménage à Trois Lady Mafia Galentine Cocktail