Dress this coffee treat up for the holidays by adding a candy cane stick garnish to the mug for guests to use as stir stick. Or chop pieces of chocolate covered peppermint candy as cool and festive holiday garnish in place of ordinary grated chocolate.
Bavarian Coffee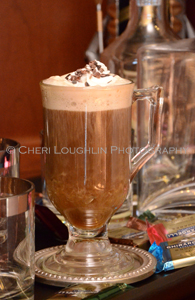 1/2 measure Peppermint Schnapps
1/2 measure Coffee Liqueur
5 measures Brewed Coffee
1 teaspoon Sugar
1-1/2 measure Whipped Cream
Grated Chocolate Garnish
Place liqueurs and sugar in bottom of heat resistant coffee mug. Top with fresh brewed coffee. Garnish with whipped cream. Sprinkle with grated chocolate.
Twitter, Facebook, StumbleUpon – str8upcocktails @ gmail.com – ©2012 Cheri Loughlin-The Intoxicologist, All Rights Reserved. All opinions, reviews and spirits' coverage are the personal opinion and decision of Cheri Loughlin.