Recently Christiania Crowns website sponsored a contest for cocktail of the month.  The ingredient to shake up with their ultra premium Christiania Vodka: blackberry.  Since I love playing with new cocktail recipes and can hardly pass up a challenge, I entered two cocktails in the contest. I have no idea if either come close to winning the match up against any number of cocktail enthusiasts who entered as well, but it certainly was an entertaining and tasty endeavor.  After all, the success is not really in winning the contest.  It is in the experimentation. 
The cocktails I chose to create began with fresh blackberries.  Plump juicy in-season blackberries are hard to beat when it comes to flavor.  They are naturally sweet when fully ripe and the color is extraordinary.  Both characteristics carry over well in these cocktail creations. 
The first cocktail is the Christi Bramble.  This drink concoction consists of muddled lemons and lightly muddled blackberries. The blackberries alone did not carry enough weight against the lemon so I chose Black Haus Blackberry Schnapps to enhance the blackberry flavor. Due to the muddling and pulp, this cocktail has to be double strained. However for all your efforts, the Christi Bramble goes the extra mile. This cocktail may be sipped as is or topped off with champagne if you are in a more celebratory mood. 
Christi Bramble – created by Cheri Loughlin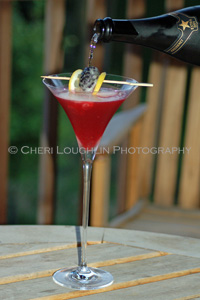 1/2 to 2/3 Fresh Lemon (cut into small chucks leaving rind on)
5 Large Fresh Blackberries (Thumb size)
2 measures Christiania Vodka
1/4 measure Black Haus Blackberry Schnapps
1/4 measure Simple Syrup
Lemon Wheel & Blackberry Garnish
Muddle lemons in bottom of mixing glass. Add blackberries and muddle gently. Add remaining liquids with ice. Shake to blend and chill. Double strain into chilled cocktail glass. Garnish with thin sliced lemon wheel and fresh blackberry.
Take this over the top by adding 1 to 1-1/2 measures Brut Champagne as the crowning jewel to bring this into the celebratory range.
Oslo Iced Tea is a little something different. This particular recipe takes a little time at first glance in making the tea and simple syrup base, but again your efforts will be rewarded. Using tea for flavoring gives this drink a slight sharpness that otherwise would never be there. It is thirst quenching, colorful and nicely rounded with the blackberry flavor and faint hint of sage. The Oslo Iced Tea is also served in a highball glass over ice as tea rather than a martini glass.
Oslo Iced Tea – created by Cheri Loughlin
1 measure Blackberry Sage Syrup*
3/4 measure Fresh Lemon Juice
1-1/4 measure Cold Blackberry Sage Tea**
3 Fresh Blackberries cut in half
Lemon Wheel, Blackberry & Sage Leaf Garnish
Combine ingredients (including cut blackberries) in a cocktail shaker with ice. Shake to blend. Strain into highball glass over fresh ice. Garnish with thin sliced lemon wheel, blackberry and sage leaf.
Blackberry Sage Syrup
Bring one cup of water to boil. Add two round bags of The Republic of Tea Blackberry Sage flavor tea to the water. Let steep for approximately ten minutes. Remove the tea bags. Add one cup of super fine sugar. Stir until dissolved. It may be necessary to place mixture in the microwave for 30 – 60 seconds to reheat. Stir well. Refrigerate to chill. Keep refrigerated between use for up to two to three weeks.
Blackberry Sage Tea
Bring water to boil. Place three round bags of The Republic of Tea Blackberry Sage flavor tea in a two cup measuring cup. Pour boiling water over tea bags and allow to steep for approximately ten minutes. Remove tea bags. Refrigerate to cool. Keep refrigerated between uses.
Twitter, Facebook, StumbleUpon – str8upcocktails @ gmail.com – ©2012 Cheri Loughlin-The Intoxicologist, All Rights Reserved. All opinions, reviews and spirits' coverage are the personal opinion and decision of Cheri Loughlin.
Christiania Crowns Shakes Things Up with Blackberry Cocktail Contest