Obama is sworn in as the 44th President of the US.   What else makes the news?
At precisely the time the 44th President of the United States took the oath of office, the Jack Daniels Distillery in Lynchburg, Tennessee (pop. 361) vowed to set aside a barrel of Tennessee Whiskey to mark this moment in history.  This special barrel will become the "Presidential Barrel" in President Obama's honor.  Once this "Presidential Barrel" has completed the aging process, it will be bottled, sold and proceeds will go to benefit various charities.
Cocktails also headline.
HENNESSY 44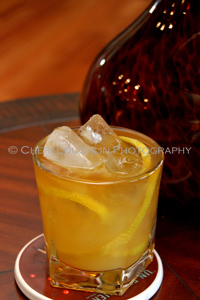 1-1/2 measure Hennessy Cognac
4 measures Pineapple Juice
Champagne
Pineapple Slice or Lemon Twist Garnish
Pour cognac and pineapple juice in highball glass with ice. Add champagne. Stir gently. Garnish with slice of pineapple or fresh lemon twist.
Cheri Loughlin is a leading cocktail and photography resource for beverage companies, event planners, businesses and individuals. High resolution cocktail and beverage stock photography images are available in downloadable digital format in the newly redesigned Stock Photography Gallery at www.cheriloughlin.com.
Twitter, Facebook, StumbleUpon – str8upcocktails @ gmail.com – ©2012 Cheri Loughlin-The Intoxicologist, All Rights Reserved. All opinions, reviews and spirits' coverage are the personal opinion and decision of Cheri Loughlin.
Hennessy 44 Commemorates Inauguration of 44th President