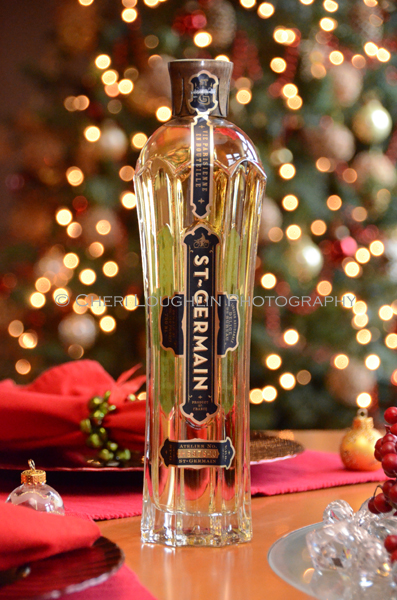 There is one reason above and beyond any other rationale that St-Germain Liqueur makes the supreme show stopping sexiest liquid gift for Valentine's Day this year; it has the sleekest, sexiest bottle ever to hit liquor store shelves.  The St-Germain bottle begs one to gently grace a finger along its silky smooth lines and curvaceous edges.   This beautiful elixir stands tall and graceful tempting the senses, teasing the palates of so many since its introduction to the U.S. market. 
The St-Germain Cocktail
2 parts Sparkling Wine, Sauvignon Blanc or Dry White Wine
1-1/2 parts St-Germain
2 parts Club Soda
Fill a tall Collins glass with ice. Add Champagne first, then St-Germain, then Club Soda. Stir completely.* Garnish with a lemon twist, making sure to squeeze essential oils into glass.  *St-Germain is heavier than wine, thus it will settle to the bottom unless mixed thoroughly.
St-Germain is an artisanal French liqueur created only once per year in late spring.  It is said to be 100% all natural with no preservatives.  It is created from elderflower blossoms in limited quantities.  Officially St-Germain tastes like tropical fruit, citrus and orchard fruits.  The flavor is soft and lilting on the tongue making it perfect for light sipping or adding that finishing touch to delicate cocktails.
La Rosette
1/2 part St-Germain
Top with Champagne, Brut Rosé or Dry Sparkling Wine
Pour ingredients into a chilled fluted glass and stir lightly. Float half a strawberry, a few raspberries or garnish with a lemon twist. Drink a toast to the elegance of simplicity and the divinity of fraises fraîches.  The addition of Brut Rosé makes this usually named St-Germain & Champagne cocktail the La Rosette due to its beautifully blush color.
My first taste of St-Germain: "I can't describe what the liqueur even tastes like. It is light, yet abundant, but not overpowering. It is floral, but not flowery and strong like roses. It has a hint of fruit in it, yet there is not a particular fruit to distinguish in the flavor. – It is a complicated liqueur, yet brings a dynamic to a drink that is unmatched. It is a layering effect that happens when a drink is put together with forethought. When you drink a cocktail such as this, you take a sip and think to yourself that it tastes really good. Then you take another sip and realize there is another element in the drink you hadn't caught the first taste around. That adds new depth and character to it and you want to taste more to see if you catch something else. That is exactly what the St~Germain does for a drink if it is added in the right proportion."
Dia Del Amor
1 part St-Germain
1-1/2 parts Reposado Tequila
3/4 part Fresh Lime
2 dashes Hot Sauce
Shake and strain into chili salt rimmed rocks glass. Garnish with a lime wheel.
Cherub's Cup
1 part St-Germain
2 parts Vodka, Citrus Vodka, or Hendricks
1/4 part Fresh Lemon
1/4 part Simple Syrup
Muddled Strawberry
Top with Brut Rosé
Shake and strain over fresh rocks in a collins glass. Top with Brut Rosé or Brut Champagne. Garnish with a strawberry.

Twitter, Facebook, StumbleUpon – str8upcocktails @ gmail.com – ©2012 Cheri Loughlin-The Intoxicologist, All Rights Reserved. All opinions, reviews and spirits' coverage are the personal opinion and decision of Cheri Loughlin.
Sexiest Valentine Cocktail Spirit