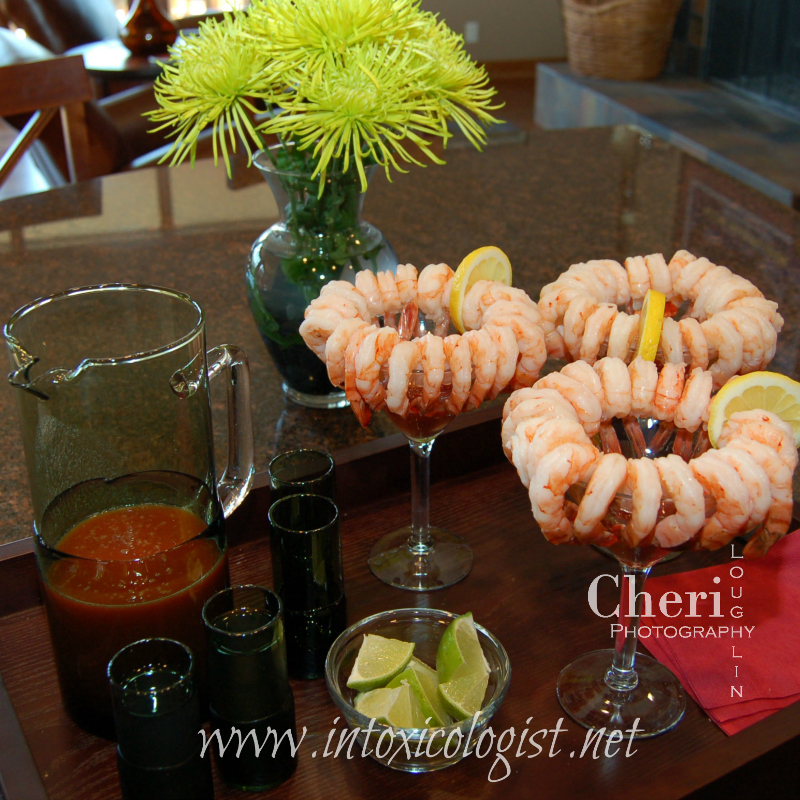 Sangrita, not to be confused with Sangria, is a traditional drink. The name means "little blood." It is basically a palate cleanser served after a shot of tequila. Pour an equal portion of Sangrita mix to equal part tequila in two separate glasses. Sip the tequila in one long swallow. Chase it with delicious the lightly sweet and spicy mix. Trust me. It helps with the fiery burn.
Sangrita Basic Ingredients Are Family Friendly
Since this is usually made as a batch cocktail, it is ideal for serving many people. The mix itself does not contain any alcohol so it is also family friendly. The main ingredients that go into the mix are orange juice, lime juice and spices.
Make an entire brunch meal with Sangrita in mind. Serve cocktail shrimp with sauce, spicy breakfast tacos, churros, roasted peppers, etc. Dial the heat level up as far as you like it with the addition of chili powder, hot sauce, chipotle powder, cilantro, etc.
Basic Sangrita Recipe
Sangrita Recipe
2-1/2 cups Tomato Juice
1-1/4 cups Fresh Squeezed Orange Juice
1/2 cup Fresh Squeezed Lime Juice
1 Jalapeno Pepper – deseeded, finely chopped
1 Tablespoon Worcestershire Sauce
Celery Salt and Ground Pepper to Taste
Mix all ingredients together in a large pitcher. Stir and refrigerate for ideally one to four hours before use.
To Serve:
1 shot Tequila
1 shot Sangrita Mix
Drink the tequila shot in one long swallow. Follow immediately with Sangrita shot.
Sangrita mix can also be served in a short glass over fresh ice for those who prefer no alcohol.
Subscribe to the monthly Newsletter
All content ©2016 Cheri Loughlin, The Intoxicologist. All Rights Reserved. Chat with Cheri @Intoxicologist on Twitter and facebook.com/Intoxicologist
Cheri Loughlin is the Omaha writer and photographer behind www.intoxicologist.net and author of Cocktails with a Tryst: An Affair with Mixology and Seduction. You can email Cheri with comments and questions at str8upcocktails@gmail.com.