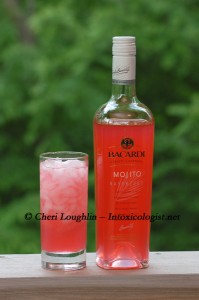 As an avid fan of handcrafted cocktails it is with rarity pre-mixed cocktails will cause me to pause in the liquor aisle.  Gone are the days of margarita mix from a plastic container with pre-requisite 2 ounce Mixto Tequila pour to get lost in the acidic sugary liquid that for some reason always glows alien green. 
These days liquor companies are releasing improved ready to serve cocktails with better quality ingredients and overall enhanced taste.  With consumers moving toward premium markets as their choice in spirits it seems only natural these same consumers still value the finest quality when purchasing products that make their lives a little easier as well. 
Bacardi is a prime example with the new Bacardi Classic Cocktail Raspberry Mojito recently released as part of the brand's ready-to-drink portfolio which already includes other popular summer classics.  The idea: placing a refreshing, convenient pour and drink cocktail in the hands of consumers that can be enjoyed anywhere so entertaining is a breeze.  The cocktails contained within the ready-to-serve line up follow a particular theme.  They all center on popular, flavorful cocktails that require a few more ingredients or a couple more steps to build than standard duo or trio cocktails.  Extra steps like muddling or the requirement of several different liquors becomes an irritation and time consuming when a host or guests try to prepare drinks poolside or while tailgating when they would rather be having a good time with friends.  Ready-to-serve from a bottle with cups, ice and possibly a garnish if one is feeling truly spicy sure beats knocking around bottles in a backseat on the way to a campsite, sporting event or even down the street for the neighborhood pool party. 
The color of Bacardi Classic Cocktail Raspberry Mojito is difficult to miss with its deep pink raspberry.  This definitely is not your typical girlie 'Cosmo' pink cocktail.  Add in a mint leaf to bring on the green garden masculine touch and men will feel the love if they have an aversion to pick drinks.  This one contains a light hint of mint and lovely raspberry fruit flavor.  The sweetness has a tinge of artificial character to it rather than that explode in your mouth just-bit-into-a-luscious-raspberry feel, but this is a pre-mixer rather than something one just muddled in a cocktail tin.  And let's face it; if we'd just muddled it ourselves with fresh raspberries, we probably would have added simple syrup and that's not very natural either.  Overall this is pretty good.  The mint is clean and refreshing without overwhelming.  The flavor of raspberry comes across just right with the right amount of sweetness that does not seem to be overdone.  I was pleasantly surprised with this pre-mixer.  Mint leaves and skewered raspberries left for guests to dress their own drinks would liven it up aesthetically, but the cocktail definitely doesn't need anything extra to make it work.  The real bonus aside from flavor in the Bacardi Classic Raspberry Mojito cocktail is total time to build this usually time consuming drink: 10 seconds flat…it just took forever for the freezer to let go of the ice!  Seriously though, the splendor of a well made pre-mixed cocktail is in the quick pour. 
The ready-to-drink bottle on the go will never replace a good old fashioned bartender who works hard to hone the craft, but the Bacardi Classic Cocktail Raspberry Mojito will certainly make an appearance at a few of my backyard parties this summer due to the ease of serve. 
Bacardi Classic Cocktail Raspberry Mojito RTD sample for review courtesy representatives of Bacardi Rum. 
Cheri Loughlin is a leading cocktail and photography resource for beverage companies, event planners, businesses and individuals. High resolution cocktail and beverage stock photography images are available in downloadable digital format in the newly redesigned Stock Photography Gallery at www.cheriloughlin.com.
Twitter, Facebook, StumbleUpon – str8upcocktails @ gmail.com – ©2012 Cheri Loughlin-The Intoxicologist, All Rights Reserved. All opinions, reviews and spirits' coverage are the personal opinion and decision of Cheri Loughlin.
Bacardi Raspberry Mojito: Effortless, Quick, Refreshing