This weekend the 'Mix Up Something Beautiful' contest came to a final close as the winner became exquisitely clear.  Judges for this cocktail contest included myself (Cheri Loughlin-The Intoxicologist), Virginia Roode and Steff Childs (The Kitchen Trials).  We started out with a quick sampling of Pinky Vodka to get a sense of the base spirit. 
Pinky Vodka certainly lives up to its reputation of the world's most beautiful vodka with its pretty pink hue, but there is more to this sexy bottle than girlish good looks.  Comments from Steff and Virginia leaned toward the floral garden feel of this spirit.  Steff said the pretty presentation of Pinky leant itself well to a Girl's Night Out theme party.  There is undeniably feminine appeal to this spirit, yet both judges agreed their male friends would sample Pinky if it were offered at a gathering.  Though it has floral tones there are also herbal notes in the background with a hint of citrus.
Winning cocktail of The Intoxicologist 'Mix Up Something Beautiful' with Pinky Vodka contest is 3,2,1…Pinkies Up entered by Charles Steadman, Palm Beach Bartender.  This particular cocktail has fabulous color, exquisitely deep strawberry flavor with a bit of Pinky Vodka flavor still coming through underneath.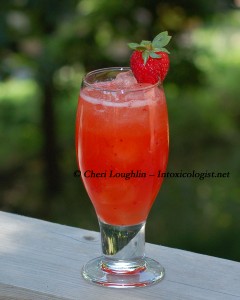 3,2,1…Pinkies Up
3 Fresh Strawberries
2 ounces Pinky Vodka
1 ounce Fresh Lime Juice
1 ounce Agave Nectar
Soda Water
Garnish: Thin slice of strawberry (taken from the ingredients)
Preparation: Remove the green and muddle the strawberries in a mixing tin. Add the Pinky vodka, lime juice and agave nectar into the mixing tin with ice. Shake vigorously for 10 seconds and strain into a highball glass with ice. Top with a nice splash of soda.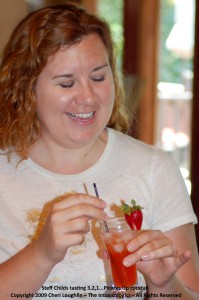 "I like this," said Steff.  "I can imagine this being served at a bar with fun outdoor patio.  I'd serve it at a Sunday brunch or bridal shower.  It's cute!  Visually it looks like it could be strawberry limeade."
"I like the burst of citrus," Virginia commented immediately after the first taste.   However, Virginia's feeling was a bit mixed about presentation.  "I don't know if I would use the same glass." 
There was much discussion about the 3,2,1…Pinkies Up cocktail before choosing it as the contest winner.  This cocktail is rather nice without the addition of soda water for starters.  The soda water actually thins it out just a little rather than adds to the flavor.  The soda water addition and conversation among judges gave us the idea of substitution.  This cocktail would be better suited for champagne rather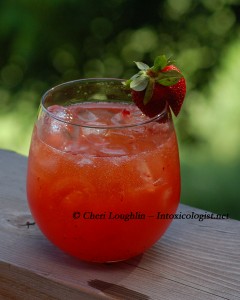 than soda water.  Champagne also suits the Pinky Vodka flirty, fun, sexy spirit a little better.  Thinking of where we might order or serve this particular cocktail and what type of glass might fulfill that need better we topped this cocktail with champagne and loved it even more.  This showed the versatility of this particular recipe.  The only drawback on this cocktail is the name.  Three female judges concur that we would never order the 3,2,1…Pinkies Up cocktail from a menu based on the name.  Something more suited to the flavor of the cocktail and characteristic of Pinky Vodka would be much more appealing.
Many thanks to all who participated in the 'Mix Up Something Beautiful' with Pinky Vodka contest.   Charles Steadman will receive his contest prize shortly.  Stay tuned to The Intoxicologist site for a new cocktail contest to be announced soon!
Cheri Loughlin is a leading cocktail and photography resource for beverage companies, event planners, businesses and individuals. High resolution cocktail and beverage stock photography images are available in downloadable digital format in the newly redesigned Stock Photography Gallery at www.cheriloughlin.com.
Twitter, Facebook, StumbleUpon – str8upcocktails @ gmail.com – ©2012 Cheri Loughlin-The Intoxicologist, All Rights Reserved. All opinions, reviews and spirits' coverage are the personal opinion and decision of Cheri Loughlin.
Mixing Up Something Beautiful