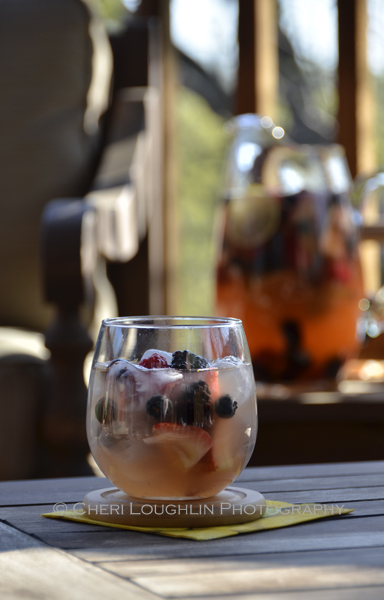 When you can't decide which berry is the best, you need the All the Beautiful Berries Sangria recipe.
Grocery stores know how to hook consumers. They place all the gorgeous, ripe berries center stage in the produce department. Then they have huge platters of fresh ripe berries with tasting picks so we can sample the luscious, succulent berries right there on the spot. Of course every season is perfect for berries, but summer is the peak season for beautiful, delicious, huge berries. Who can resist?! Yeah, me neither.
All the Beautiful Berries Sangria Recipe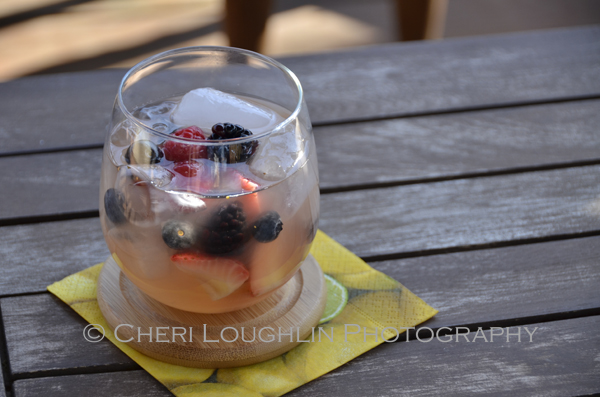 All the Beautiful Berries Sangria – recipe by Cheri Loughlin, The Intoxicologist
16 ounces Fresh Strawberries
6 ounces Fresh Blackberries
6 ounces Fresh Blueberries
6 ounces Fresh Raspberries
1 Fresh Lime
8 ounces Brandy
3 ounces Coconut Rum
3 ounces Velvet Falernum Liqueur
3 ounces Orgeat Almond Syrup
2 – 750ml Bottles Moscato Wine
Hull fresh strawberries and cut into quarters. Slice lime into wheels and cut wheels in half. Place all fresh fruits in large pitcher. Top with brandy, coconut rum, Falernum liqueur, Orgeat and Moscato wine. Stir. Cover with plastic wrap. Refrigerate several hours or overnight.
Stir briefly before serving. Serve in goblet over ice. Place a spoonful of berries in each cup when serving.
All the Beautiful Berries Sangria Recipe Notes, Tips and Tricks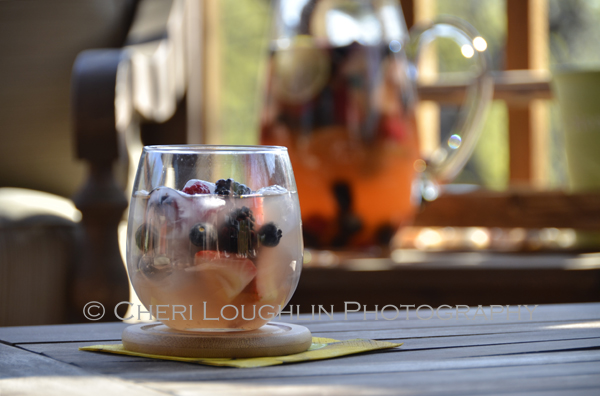 All the Beautiful Berries Sangria recipe started with a basic Sangria recipe. This recipe developed to include a little more fruit than the basic recipe uses as a guideline. I couldn't resist adding more berry fruits, because the berries were so delicious. I also served this Sangria a little differently than usual. The berries soaked up quite a bit of the alcohol in the marinating process. To distribute the flavor a bit I placed about 1/3 cup of berries in a goblet and very lightly mashed them with the back of a spoon. The idea is not to crush them, but just release some of the flavor back into the Sangria. This way there are not pockets of pure fruit alcohol.
I am not a huge fan of ice in my Sangria, so I actually skip the ice in mine. Serve yours with or without ice. If the Sangria is too strong for you without ice melt, top with a bit of club soda or ginger ale. But make sure your club soda or ginger ale is well chilled first. Other options to consider are flavored sparkling waters that complement the Sangria flavor.

All content ©2013 Cheri Loughlin, The Intoxicologist. All Rights Reserved. Chat with Cheri @Intoxicologist on Twitter and facebook.com/Intoxicologist or str8upcocktails@gmail.com
All the Beautiful Berries Sangria Recipe