Regal tones and vibrant fruit flavor set this cocktail apart from the crowd.  Naked Juice becomes the quick fix when in a rush and muddling is not an option.  However, take the time to zest the lemon over the cocktail glass to gain full benefit of the essential oil spray.  This adds flavor definition you will undeniably miss if you leave out this significant step.  Champagne rounds out the Black & Blue Below with finesse.
Black & Blue Below – created by Cheri Loughlin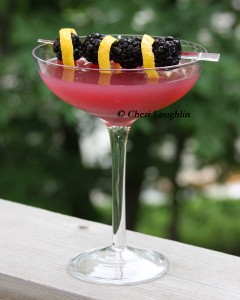 2 ounces 42Below Vodka
1-1/2 ounce Naked Black & Blueberry Rush 100% Juice Smoothie
1/2 ounce Limoncello Liqueur
1/4 ounce Fresh Lemon Juice
Brut Champagne
Blackberry Skewer with Lemon Twist Garnish
Zest one lemon twist over a martini glass to coat the inside of the glass.  Set aside.  Combine all ingredients except champagne and lemon twist in a cocktail shaker with ice.  Shake to chill.  Strain into a martini glass.  Top with an ounce to ounce and a half of Brut Champagne.  Garnish with a skewer of blackberries wrapped with lemon twist garnish.
Cheri Loughlin is a leading cocktail and photography resource for beverage companies, event planners, businesses and individuals. High resolution cocktail and beverage stock photography images are available in downloadable digital format in the newly redesigned Stock Photography Gallery at www.cheriloughlin.com.
Twitter, Facebook, StumbleUpon – str8upcocktails @ gmail.com – ©2012 Cheri Loughlin-The Intoxicologist, All Rights Reserved. All opinions, reviews and spirits' coverage are the personal opinion and decision of Cheri Loughlin.