According to pop culture history the classic Brandy Alexander cocktail was a favorite drink of John Lennon who referred to it as a 'milkshake' on occasion.  This really tastes more like delectable chocolate milk with hint of amaretto flavor and aroma of grated nutmeg than the classic Brandy Alexander, but it's a Mocktail.  No brandy added here.  The martini glass is what really spruces this drink recipe up to the adult playing field level.
Lennon's Milkshake – created by Cheri Loughlin
Inspired by the classic Brandy Alexander drink recipe, celebrated with its own holiday ~ January 31 is Brandy Alexander Day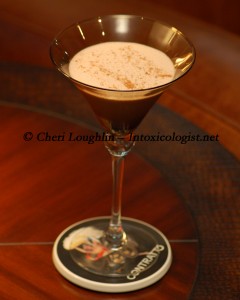 3 ounces Half & Half
1 Tablespoon Hershey's Special Dark Syrup
1/4 ounce Amaretto Syrup
Nutmeg Sprinkles Garnish
Place half & half and chocolate syrup in a cocktail shaker with ice.  Shake well.  Strain into a martini glass.  Garnish with grated nutmeg.
Twitter, Facebook, StumbleUpon – str8upcocktails @ gmail.com – ©2012 Cheri Loughlin-The Intoxicologist, All Rights Reserved. All opinions, reviews and spirits' coverage are the personal opinion and decision of Cheri Loughlin.
Mixing with John: Lennon's Milkshake