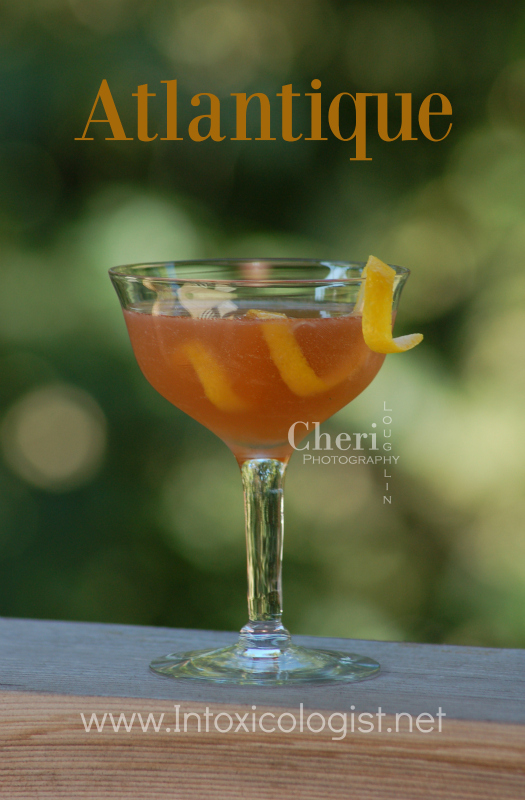 Chambord Liqueur giving this pink hued cocktail its charming color.  Atlantique contains subtle peach aroma with slight vanilla undercurrent in the flavor.  The sweet is balanced with a hint of tartness that remains mild.  The beautiful color depicts the same gentle nature in its flavor.
Atlantique
1-1/2 part Vodka
1/2 part Fresh Lemon Juice
1/2 part Chambord
1/4 part Peach Schnapps
Peach Slice Garnish
Combine liquid ingredients in a cocktail shaker with ice.  Shake to blend and chill.  Strain into a chilled cocktail glass.  Garnish with peach slice on the rim of glass.  Lemon twist may be substituted.
Atlantique is an excellent cocktail to pair with pink themed gatherings during the month of October or any time of year.
Subscribe to the monthly Newsletter
All content ©2015 Cheri Loughlin, The Intoxicologist. All Rights Reserved. Chat with Cheri @Intoxicologist on Twitter and facebook.com/Intoxicologist
Cheri Loughlin is the Omaha writer and photographer behind www.intoxicologist.net and author of Cocktails with a Tryst: An Affair with Mixology and Seduction. You can email Cheri with comments and questions at str8upcocktails@gmail.com.
Tippling Pink: Atlantique Cocktail