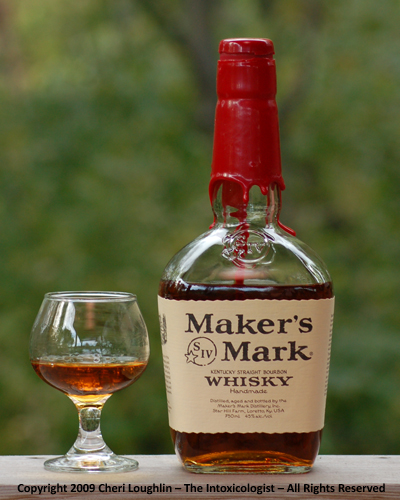 Maker's Mark Bourbon carries off as a rather hearty bourbon, dark in color with rich, deep flavor.  There are subtle cherry tones with chocolate filtering in between hints of orange and possibly a fraction of apricot peel.  At 90 proof there is surprisingly little burn.  The maker hit his mark right on target with this American Spirit.
Hangman's Noose Cocktail Recipe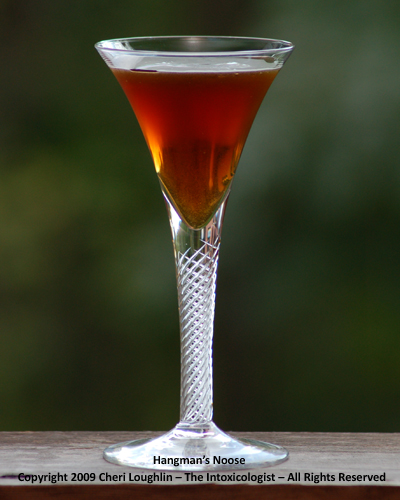 Hangman's Noose – recipe by Mixologist Cheri Loughlin
1-1/4 ounce Maker's Mark Bourbon
1/2 ounce Godiva Liqueur Original
1/4 ounce Sweet Vermouth
Place ingredients in a mixing glass with ice.  Shake to chill.  Strain into an old fashioned cocktail glass.
The Hangman's Noose plays up the characteristics of Maker's Mark Bourbon with a bit of cinnamon and chocolate shine coming through without dominating the original spirit.  Surprisingly not too sweet.  Vermouth helps add a little balance while bringing our more spice.  This makes a great Halloween drink recipe due to the name or holiday cocktail due its classic style.

All content ©2009 Cheri Loughlin, The Intoxicologist. All Rights Reserved. Chat with Cheri @Intoxicologist on Twitter and facebook.com/Intoxicologist or str8upcocktails@gmail.com
Hitting the Maker's Mark: Hangman's Noose Cocktail Recipe