Hendrick's Gin ventures toward the side of the unusual with its cucumber tones, medicinal shaped bottle and off the cuff sense of humor in marketing.  But this rather curious Gin begs to be reckoned with among more 'traditional' styled Gins consumers might be more familiar with in classic martinis and cocktails.  The flavor settles upon the palate with much the same juniper tone conventional Gin contains, but then lovely flora sneaks up behind giving Hendrick's wonderful kick.  Some find it all cucumber, but there is a certain amount of floral or perfume to this one making it perfect for tweaking an ordinary cocktail into something extraordinary.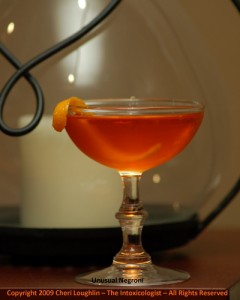 Unusual Negroni
1 ounce Hendrick's Gin
1 ounce Lillet Blanc
1 ounce Aperol
Orange twist
Combine ingredients and shake well with ice. Serve up and garnish with an orange twist.
Delightful.  Light rather than heavy, most likely due to the Lillet Blanc rather than sweet vermouth.  I like this one very much.  If the Classic Negroni ranks high on your list of cocktail loves, the Unusual Negroni should rank high on your list of 'must try' cocktail recipes.  Two more must try Negroni cocktails on your list this season; Naughty Negroni using a champagne topper and Art' Negroni with Cynar Artichoke Liqueur/Aperitif.  All three of these twists on the classic Negroni make excellent choices for holiday gatherings this season with their classic style and flair for the unique.  The Negroni cocktail is a quick build mixed drink, low on the difficulty factor.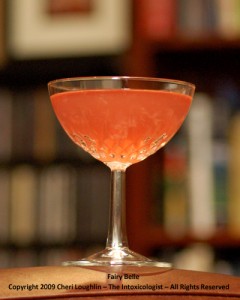 Fairy Belle
1-1/2 ounce Hendrick's Gin
1/2 ounce Apricot Brandy
1/2 ounce Fresh lemon juice
1/4 ounce Grenadine
1/4 ounce Simple syrup
Lemon twist
Combine ingredients and shake well.  Serve up in a martini style glass.  Garnish with a lemon twist.
Fairy Belle contains this tart/perfumed twist to it that is intriguing.  The flavor causes me to sip, roll the liquid around and mull the thought of its unusualness over my taste buds.  This mixed drink plays up the floral tones of Hendrick's Gin more than the previous cocktail recipe.  Fairy Belle is an excellent example of contemporary style drinks created from base spirits that are sometimes thought of as 'old fashioned' or those only consumed by an older generation.  Not so.  Gin might have been the spirit of an older generation, but it is also seeing the dawning of a new age.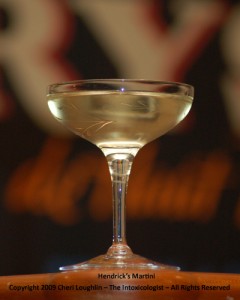 Hendrick's Martini
1-1/2 ounce Hendrick's Gin
3/4 ounce Dry Vermouth
Stir Vermouth and Hendrick's Gin over ice cubes in mixing glass. Strain into martini glass. Serve with cucumber slice.
Of course the gold standard of practically any gin is the martini.  Hendrick's served up phenomenal gin martinis at the Hendrick's Enchanted Portal to the Peculiar party at Tales of the Cocktail 2009.  I am not so sure this particular recipe is the same proportion followed for what was served then or possibly the vermouth I used is not the same.  Play with the proportions a little.  Personally I like a little more gin shine through than vermouth.  With Gin as extraordinary and unique as Hendrick's; savor the flavor.
Twitter, Facebook, StumbleUpon – str8upcocktails @ gmail.com – ©2012 Cheri Loughlin-The Intoxicologist, All Rights Reserved. All opinions, reviews and spirits' coverage are the personal opinion and decision of Cheri Loughlin.
Savoring the Flavor of Hendrick's Gin Classic & Contemporary Cocktail Recipes