Armagnac Castarède Tasting Notes:
Straw to golden color.  Soft nut flavor with hints of ripened fruit, possibly faint floral in the finish.  Light in consistency, delicately sweet with nut skin lingering on the tongue.  Beautiful spirit!  Easily sipped as is, with a single cube to melt gracefully at will or in superbly built cocktails meant to highlight its wonderful qualities.
14 Juillet – Good Spirits by A.J. Rathbun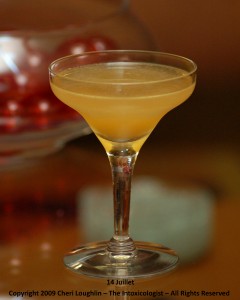 1-1/2 ounce Castarede Armagnac VSOP
1 ounce Cointreau
1/2 ounce Lemon Juice
Combine ingredients in a cocktail shaker with ice.  Shake to blend and chill.  Strain into a cocktail glass.
This classic style martini plays upon the flavor of the Armagnac nicely.  A little of the nut tone is allowed to show through under the orange and lemon balance.  I like this one.  It reminds me of simple, well built classic cocktails.  Definite drink recipe to add to your repertoire of must try cocktails, especially during the holiday season.
Cheri Loughlin is a leading cocktail and photography resource for beverage companies, event planners, businesses and individuals. High resolution cocktail and beverage stock photography images are available in downloadable digital format in the newly redesigned Stock Photography Gallery at www.cheriloughlin.com.
Twitter, Facebook, StumbleUpon – str8upcocktails @ gmail.com – ©2012 Cheri Loughlin-The Intoxicologist, All Rights Reserved. All opinions, reviews and spirits' coverage are the personal opinion and decision of Cheri Loughlin.
Classic Style Armagnac Cocktail Recipe: 14 Juillet