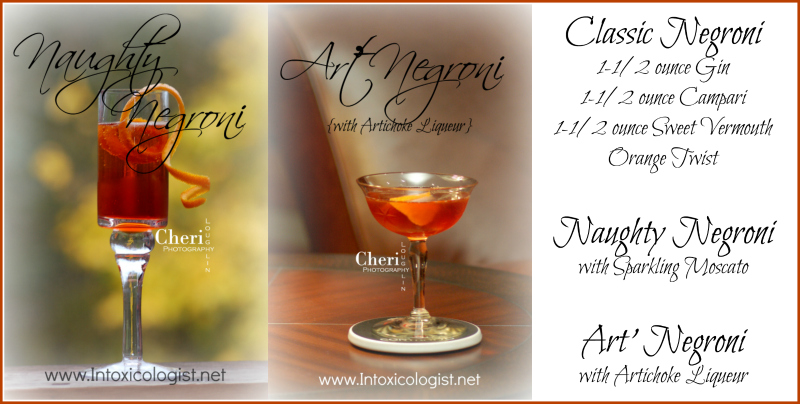 With the holiday season coming up it is time to begin thinking about celebration cocktails for family gatherings and social events.  Thanksgiving and Christmas time of year bring in moments of tradition, heritage and honor generations of the past.  Incorporating classic cocktails into modern celebrations is an excellent way to convey a sense of timelessness and elegance to the occasion.
Maria C. Hunt, author of The Bubbly Bar, offers a champagne perspective for holiday celebrations or any occasion a little added sparkle would make it shine brighter.  The Bubbly Bar fills champagne flutes and cocktail glasses with The Classics, those which must be Mixed & Muddled and doesn't shy away from Happy Endings.  All of the recipes are beautifully photographed which is a real plus for those who love visual context of the finished product.
As inspiring as The Bubbly Bar is with its vast array of champagne and sparkling wine cocktails, be prepared for prep work with a healthy share of the recipes provided in this book.  Numerous recipes require specialty syrups made ahead of time or steeped tea with spice inclusion, cooled before cocktail mixing can begin.  Fresh ingredients definitely create the most flavorful cocktails.  Planning ahead for what you want to sample is a must with The Bubbly Bar since there are several cocktails with fresh ingredients.  Many contain ingredients that might not be readily available or easy to find such as dried pink rose petals for the Vintage Rose or sour cherry syrup for the Sour Cherry.  These are just two examples of ingredients that must be ordered online ahead of time if they cannot be found locally.  Maria has provided a Resources guide for this purpose.  The Bubbly Bar is an excellent sparkling cocktail resource for anyone with a passion for champagne, but not the best source for on the fly cocktail creation.  Prepare ahead of time for what your celebration cocktails will be this season.
Naughty Negroni Recipe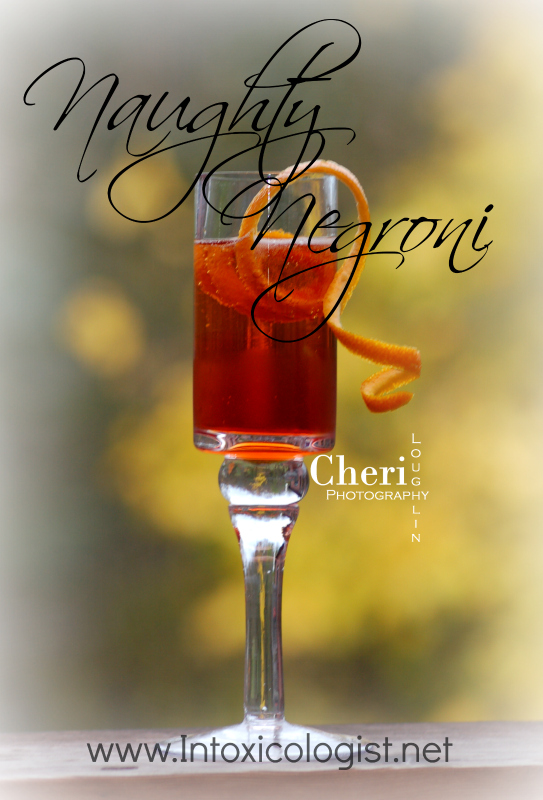 Naughty Negroni – Bubbly Bar by Maria C. Hunt
1 ounce Campari
1 ounce Sweet Vermouth
1/2 ounce Gin
4 ounces Moscato d'Asti Sparkling Wine
Long Spiral of Orange Peel Garnish
Add Campari, vermouth and gin to cocktail shaker with ice.  Shake to chill.  Strain into champagne flute.  Top with Moscato.  Garnish with orange peel.
This is indeed beautiful with the classic dry to bitter flavor characteristic of Campari.  Champagne gives the Negroni classic cocktail a delightful holiday spirit making this an excellent choice for celebrations.
One of my favorite cocktails to order out and about is the classic Negroni, but with an artful twist. Cynar with its artichoke flavor foundation is my preferred aperitif for the Negroni classic.  The flavor is deeply rich without so much bitter dryness.
There's a holiday for the artichoke! March 16 is National Artichoke Heart Day.
Art' Negroni Recipe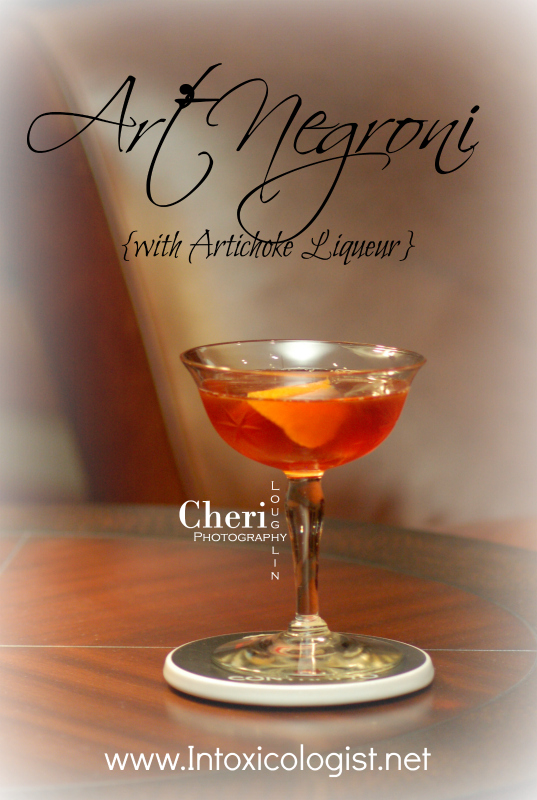 Art' Negroni – Classic Cocktail adapted by Cheri Loughlin
1-1/2 ounce Gin
1 ounce Carpano Antica Formula
1-1/2 ounce Cynar Artichoke Liqueur
Orange Twist Garnish
Combine ingredients in mixing glass with ice.  Stir to chill.  Strain into a cocktail glass.  Garnish with orange twist.
Even though the Negroni cocktail still flavors out fabulously when it warms a little as it is sipped, this drink can also be placed into a small cocktail glass with the remaining half poured into a small sidecar on ice to remain chilled.
Subscribe to the monthly Newsletter
All content ©2015 Cheri Loughlin, The Intoxicologist. All Rights Reserved. Chat with Cheri @Intoxicologist on Twitter and facebook.com/Intoxicologist
Classic Cocktail Recipes Sparkle: Naughty Negroni & Art' Negroni