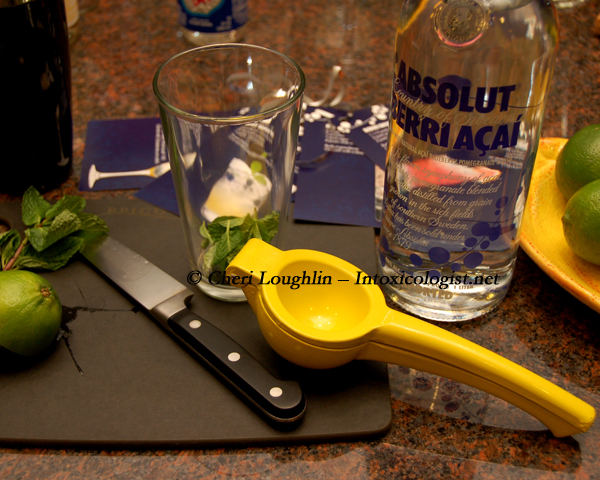 From the outset Absolut Berri Acai seems to have missed the mad rush on the super fruit high of the little Acai berry.  It has had its ups and downs in the press as to the magical benefits of consuming the little super fruit.  In my opinion when mixing Acai with liquor in any form the retention for health benefits becomes debatable, so the remaining factor becomes taste.  When it comes right down to it the Acai berry indeed infuses flavor into the spirit.  Absolut Berri Acai hit upon something rather unique with this particular flavor that surprised my tingling taste buds.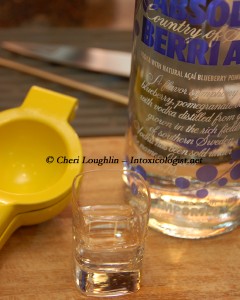 Aroma: Candy-like, sweet, fruity, slight sweet tart catch-like tickle rises in the back of my throat when breathing in the fruity sweetness.  No alcohol burn on the nose.
Tasted Neat: Not sweet at all.  Definitely all vodka with some of the tattle tale burn.  As much as I hesitate to make the connection – there is the fairest hint of cough syrup flavor lingering in the finish reminiscent of days of youth.  I also detect a peculiar mint or refreshing feel in the after effect that I wasn't quite expecting.  It is a minty fresh effect as if having just popped a refreshing berry-mint chewing gum stick in my mouth and breathed in deeply.  It is cool, lightly fruited and wafting mint as if lace just lilted over the tongue.  Quite surprisingly nice really since there is no sticky sweet in this vodka at all.
Tasted Chilled: Some of the burn fades when chilled straight.  Some berry flavors come across round, full and lush.  Absolut Berri Acai does not round out in this particular fashion.  It is an entirely different breed of character.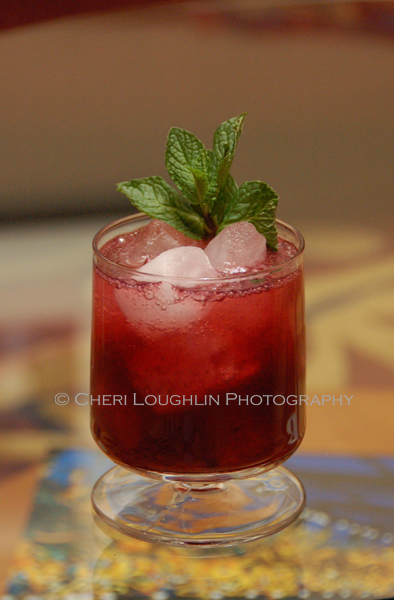 Berrily a Mojito – created by Cheri Loughlin
10 Mint Leaves
3/4 part Simple Syrup
4 Blackberries
10 Blueberries
1/2 Lime – Juiced
1-1/2 part Absolut Berri Acai
Club Soda
Mint Garnish
Muddle mint leaves and simple syrup in bottom of mixing glass.  Add berries.  Muddle again three or four times being careful not to completely mash.  Add in juice of 1/2 fresh lime and Absolut Berri Acai with fresh ice.  Shake vigorously.  Strain into a highball glass over fresh ice.  Top with approximately 1-1/2 part Club Soda.  Garnish with mint leaf.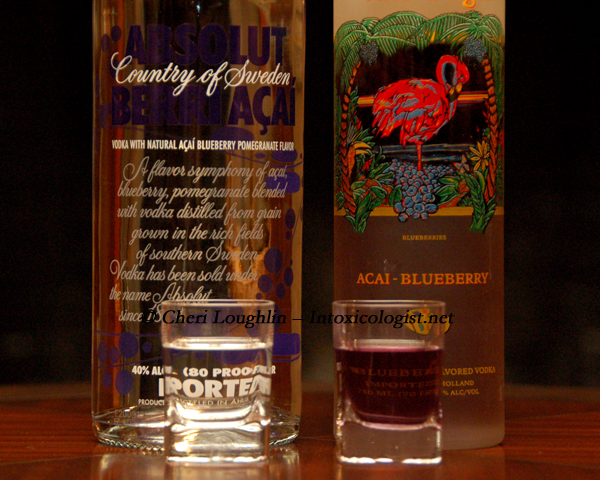 Since readers already asked a comparison of Absolut Berri Acai Vodka versus Van Gogh Acai-Blueberry Vodka seemed necessary for completion of this review.  Van Gogh Acai-Blueberry contains thicker viscosity, is definitely sweeter and obviously exhibits beautiful color.  The cough syrupy flavor and alcohol burn show through a little with the Van Gogh Acai-Blueberry as well when sampled neat.  Over all I wouldn't necessarily say Van Gogh's flavor is any better or worse than Absolut Berri Acai for cocktail creation.  However, the upside of Van Gogh Acai-Blueberry is the color for aesthetics and 70 proof for lower alcohol content.  The downside is added sugar.  After the bottle has been opened the sugar granulates around the bottle top, so the fact there is sugar retained within the vodka cannot be denied.  It also makes it difficult to reopen the bottle since it creates a sugar seal.  Added sugar content makes it a little more difficult to add flavored liqueurs and juices for variety drinks without over sugaring cocktails.  Color can sometimes become an issue when adding in particular juices and liqueurs as color combines and sometimes one winds up with not so appealing colors of cocktails.  Van Gogh Acai-Blueberry prices out around $29.99 locally.  Absolut Berri Acai has not arrived on shelves locally, but Absolut flavored vodkas price out at $24.99.  Representatives for Absolut Vodka and Van Gogh Vodkas have both sent products for review past and present.  Neither have been shown preference in this comparison.
Twitter, Facebook, StumbleUpon – str8upcocktails @ gmail.com – ©2012 Cheri Loughlin-The Intoxicologist, All Rights Reserved.
Absolut Berri Acai: Mint Condition Cocktail Spirit