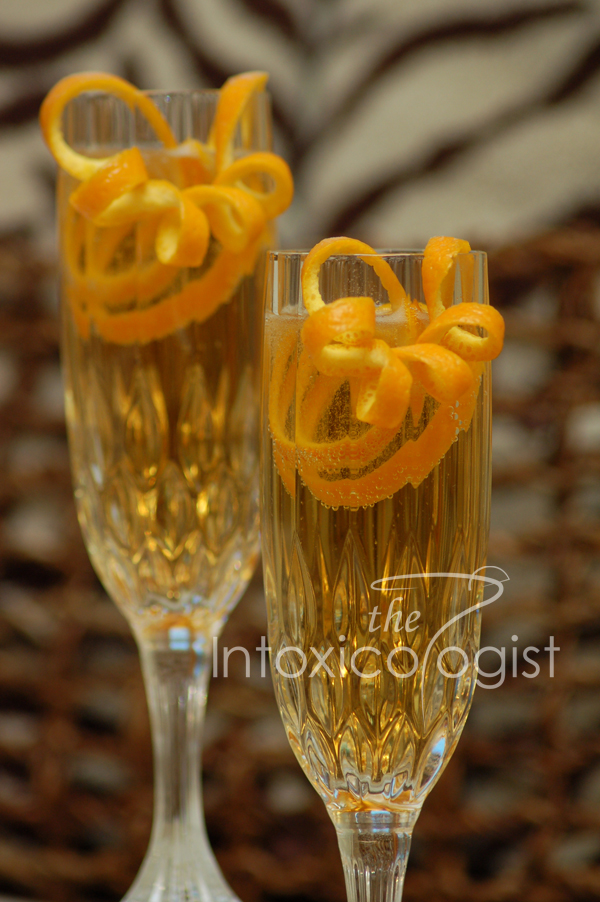 More and more singles are embracing February 14 as their evening to hit the town, romance the night and party till dawn.  Valentine's Day is no longer a couples only evening.  Single status no longer means sitting at home in bathrobe, house slippers and hair rollers with a box of Kleenex and half eaten tub of ice cream.  Single means short skirts, silky shirts and high heels partying with girlfriends with cocktails in hand.  It's flirting with whomever one chooses, whenever one wants.  Erin Meanley, writer for Glamour.com, highlights more benefits of staying single in a coupled up Valentine's Day world.  Erin says, "Being single makes your social life less complicated in a way."  It couldn't be truer for Valentine's Day.  Enjoy your single self and shake things up a bit.
Rouge Noir
1-1/2 ounce Combier Rouge
1/2 ounce Combier Orange Liqueur
4 ounces Brut Champagne
Orange Zest Garnish
Place Combier Rouge and Orange Liqueur in cocktail shaker with ice.  Shake briefly to chill.  Strain into champagne flute.  Top with champagne.  Garnish with orange zest.
Combier Rouge contains hints of pepper and licorice.  It's blend of guignes and Morello cherries give it deep ruby color and spicy sweet cherry flavor.  Combier Rouge contains no added sugar.  The sweetness stems naturally from the fruits used to create this 400 year old liqueur.
Noir by definition refers to genres of crime prose or film featuring cynical characters in austere settings.  Rouge is the reddish coloring of cheeks or lips.  It would certainly be a crime to allow the fiery glow of Valentine's Day go to waste while singles mingle it up at bars and clubs around the country enjoying the freedom of flying solo.
Subscribe to the monthly Newsletter
All content ©2015 Cheri Loughlin, The Intoxicologist. All Rights Reserved. Chat with Cheri @Intoxicologist on Twitter and facebook.com/Intoxicologist
Flying solo on Valentine's Day