Masks, beads and sequins in colorful colors of purple and green characteristically pull together the look and feel of Mardi Gras otherwise known as "Fat Tuesday". This day inspires celebrations around the country and in many areas of the world. Revelers unite by donning costumes with feathered and sequined masks and take to the streets and bars for fun and frolicking good times.
The ideal Mardi Gras celebration might take place in the streets of New Orleans with authentic parades, beads and King Cakes. Take a look at these Easy King Cake Knots for a little dessert inspiration! But everyone can whip up a Bourbon Street style Mardi Gras party with the bare necessities. Beads are an essential, but the real question is – How many beads are necessary? Cosmo Confidential asked and ladies answered, so you can get a rough estimate of how many case loads will come in handy for your Mardi Gras celebration.
Don't forget tasty drinks! Cocktails by the gallon are a must when masses gather. Make certain to have plenty of liquid libations in delicious flavors for those who imbibe in spiked concoctions and for those who prefer Mocktails of the non-alcoholic variety as well.
Speaking of how many beads you'll need for your celebration; let's talk about how many Beaded Lady's you might want instead.
Beaded Lady Drink Recipe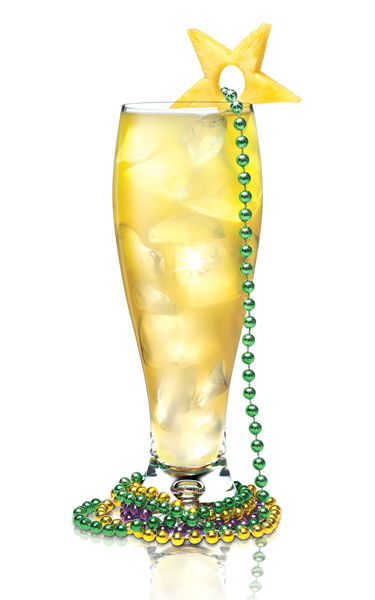 Beaded Lady
1 ounce SKYY Infusions Passion Fruit
1/2 ounce Gin
1/2 ounce Triple Sec
1/2 ounce Lime Juice
2 ounces Pineapple Juice
Dash of Bitters
Soda Water
Pineapple Slice Garnish
Place gin, triple sec and juices in a cocktail shaker with ice. Shake to blend and chill. Strain into a pilsner glass filled with fresh ice. Top with soda water and dash of bitters. Garnish with a pineapple slice.
Beaded Lady drink recipe and photo supplied by representatives of SKYY Vodka.
All content ©2010 Cheri Loughlin, The Intoxicologist. All Rights Reserved. Chat with Cheri @Intoxicologist on Twitter and facebook.com/Intoxicologist or str8upcocktails@gmail.com
The Beaded Lady Creates Mardi Gras Mischief