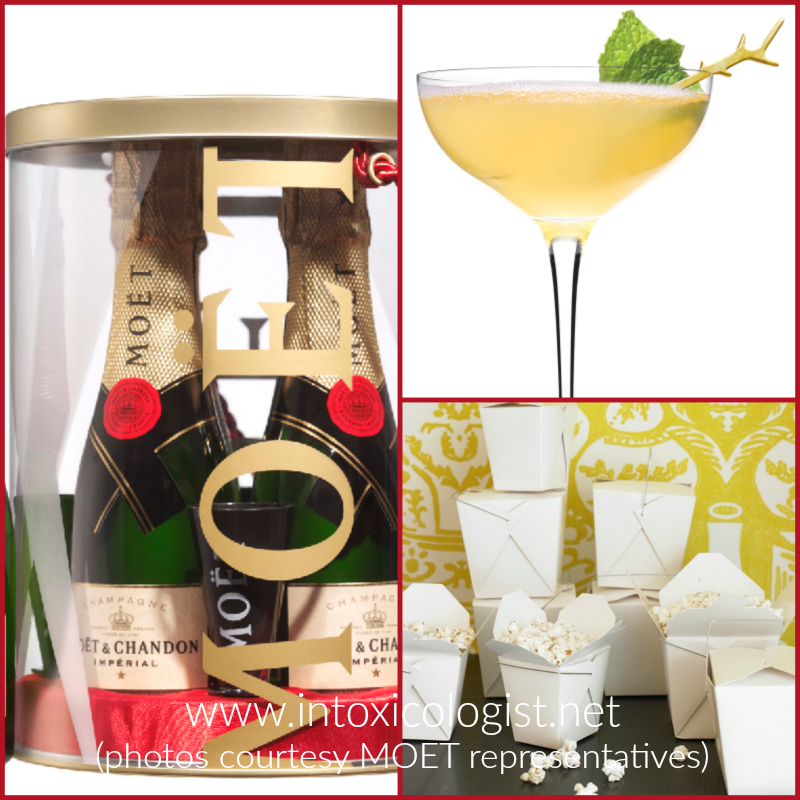 Recipes and photos provided by brand representatives. All comments and opinions are my own unless otherwise stated.
Katie Lee, author of "The Comfort Table" and culinary personality, created Chinese Five Spice popcorn to pair with Oscar Gold and Moët's "Golden Glamour" signature cocktail which will be served on the red carpet and at the Governor's Ball.  Sip and nosh like the stars on Oscar night.
Golden Glamour
4 ounces Moët & Chandon Imperial Champagne
1/4 ounce Navan Vanilla Liqueur (make your own)
1-1/2 ounce Passion Fruit Juice
Fresh Mint Garnish
Combine vanilla liqueur and juice in cocktail shaker with ice. Shake to blend and chill. Strain into champagne coupe. Top with champagne. Garnish with sprig of fresh mint if desired.
Chinese Five-Spice Kettle Corn – created by Katie Lee
Katie says, "I eat popcorn almost every night and I like to experiment with different flavors. I make this Chinese Five-Spice Kettle Corn to enjoy with cocktails and also package it up in takeout boxes for a party favor for my guests."
3/4 cup popcorn
1/4 cup canola oil
3 tablespoons sugar
2 tablespoons Chinese 5 Spice powder
2 teaspoons salt
2 tablespoons unsalted butter, melted
In a pot with a tight-fitting lid over medium heat, combine popcorn, oil, sugar, 5 Spice powder, and salt. Shake constantly. When popcorn begins to pop, lower heat to medium-low. Continue to shake until popping begins to slow and transfer to a bowl. Drizzle with melted butter.
Yield: 6 to 8 servings – Prep Time: 5 minutes – Cook Time: 5 minutes
Subscribe to the monthly Newsletter
All content ©2016 Cheri Loughlin, The Intoxicologist. All Rights Reserved. Chat with Cheri @Intoxicologist on Twitter and facebook.com/Intoxicologist
Cheri Loughlin is the Omaha writer and photographer behind www.intoxicologist.net and author of Cocktails with a Tryst: An Affair with Mixology and Seduction. You can email Cheri with comments and questions at str8upcocktails@gmail.com.
Sip Like the Stars: Moët & Chandon Golden Glamour Cocktail