You don't have to leave the comfort of your own home to taste the delights of a world traveler. Experience flavors from around the globe as they mingle dramatically in The World Traveler cocktail. Deep spice comes together with just the ideal hint of vanilla. A splash of sparkling sake takes beautiful to exquisite in a way champagne could not. Zipang Sparkling Sake maintains perfect balance with its light rice sweetness.
World Traveler – created by Cheri Loughlin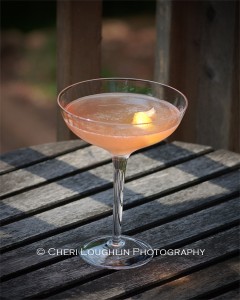 1 ounce Reposado Tequila
1 ounce Pomegranate Vodka
1/4 ounce Vanilla Liqueur
1/2 ounce Fresh Lemon Juice
1/4 ounce Agave Nectar
1-1/2 ounce Sparkling Sake
Lemon Twist Garnish
Combine all liquids except sparkling sake in cocktail shaker with ice. Shake to blend and chill. Strain into chilled martini glass. Top with sparkling sake. Garnish with lemon twist.
I used Cielo Tequila, Navan Vanilla Liqueur, Van Gogh Pomegranate Vodka and Zipang Sparkling Sake while creating this cocktail.
Find The Intoxicologist on Twitter, Facebook, StumbleUpon or Email: str8upcocktails@gmail.com – Copyright 2011 Cheri Loughlin – The Intoxicologist – All Rights Reserved