Put an Italian twist into your relaxing weekend the Italian way with a little amaretto twist to the modern classic Cosmopolitan cocktail.  This version weighs a slightly different flavor to the taste experience than the usual Sex and the City cocktail fair hued pink drink.  This version gives away the hint of almond immediately in aroma with medium flavor throughout.  Who knows there might be a little Cosmo in all of us after all…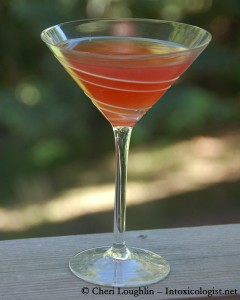 Italian Cosmo – adapted by Cheri Loughlin
1 ounce Amaretto
1 ounce Vodka
1/2 ounce Tuaca
1 ounce Cranberry Juice
1/2 ounce Lime Juice
Lime Twist Garnish
Combine liquids in a cocktail shaker with ice.  Shake to blend and chill.  Strain into chilled martini glass.  Garnish with fresh lime twist.
Find The Intoxicologist on Twitter, Facebook, StumbleUpon or Email: str8upcocktails@gmail.com
www.discus.org – Distilled Spirits Council of the United States
Copyright 2010 Cheri Loughlin – The Intoxicologist – All Rights Reserved
All opinions, reviews and spirits' coverage contained within are the personal opinion and decision of Cheri Loughlin, The Intoxicologist.
Modern Classic Cosmo Goes Italian