Sours are one of the most challenging cocktails to nail down in proper proportion. Too much sour in the cocktail recipe and facial features distort as lips pucker to the distinct mouth watering bite in the tart flavor experience.  Adding too much sweet to the mix makes the sour drink something new altogether.  Though August 25 is earmarked as National Whiskey Sour Day it is possible to substitute a favorite base spirit for whiskey in a basic sour recipe.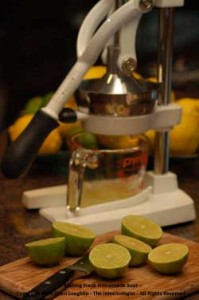 Basic Sour Recipe
2 ounces Base Spirit
3/4 ounce Sour (Fresh Lemon or Lime Juice)
1 ounce Sugar or Simple Syrup
Combine ingredients in cocktail shaker with ice.  Shake hard to chill completely and create frothy texture.  Strain into an Old Fashioned glass over fresh ice.  Garnish with lemon twist or orange slice with maraschino cherry.  When shaken properly, sour and sugar combination create fizzy top to the drink without the need for added egg white.
There are stories that circulate as to how the Whiskey Sour came into play within history.  According to some, the Whiskey Sour's creation was in direct correlation to sailors fighting scurvy due to vitamin deficiency.  Preservation of the fruit due to long periods at sea made the creation of sour drinks part of natural progression.  Another tale weaves the story of an English steward who opened a bar in a Peruvian city.  His signature drink creation became known as the sour for its tart taste.  No matter the historical record of the Whiskey Sour or how sours in general came to be established in the saga of cocktails, there are always variations to the basic sour recipe for the sheer enjoyment of flavor delight.
Whiskey Sour – The Flowing Bowl, William Schmidt 1892
Place juice from half a lemon or lime in bottom of mixing glass.
Squirt of Seltzer
Sugar to Taste
Drink of Whiskey
Ice
Mix well. Strain and serve.
Big Fellow Apricot Sour – Stephen Siebert, Philadelphia, PA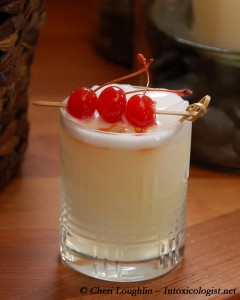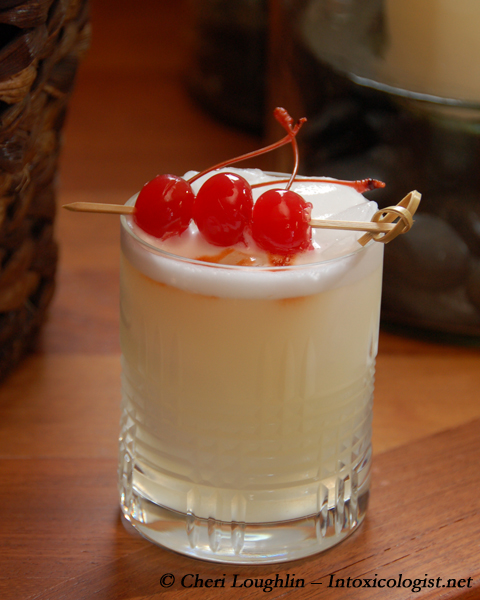 1-1/2 parts Michael Collins Single Malt
3/4 part Honey Syrup
3/4 part fresh Lemon Juice
1/2 part fresh Orange Juice
1 bar spoon Apricot Jam
1 small Egg White
3 dashes Angostura Bitters
Wide Orange Twist Garnish
Combine all ingredients (except bitters and garnish) in cocktail shaker with ice.  Shake vigorously to blend and chill.  Double strain into rocks glass over fresh ice.  Garnish with bitters and orange twist.
New York Sour
2 ounces Rye Whiskey or Bourbon
Juice of half a lemon
1/4 Simple Syrup to Taste
1/2 ounce Red Wine
Egg white Optional
Lemon Slice & Fresh Cherry Garnish
Combine whiskey, lemon juice and simple syrup (egg white optional) in cocktail shaker with ice.  Shake vigorously.  Strain into rocks glass over fresh ice.  Float red wine over top.  Garnish with lemon slice and fresh cherry.
Cheri Loughlin is a leading cocktail and photography resource for beverage companies, event planners, businesses and individuals. High resolution cocktail and beverage stock photography images are available in downloadable digital format in the newly redesigned Stock Photography Gallery at www.cheriloughlin.com.
Twitter, Facebook, StumbleUpon – str8upcocktails @ gmail.com – ©2012 Cheri Loughlin-The Intoxicologist, All Rights Reserved. All opinions, reviews and spirits' coverage are the personal opinion and decision of Cheri Loughlin.
Welcome National Whiskey Sour Day with the Essential Basic Sour Recipe