In a state where rows of corn line the highway and fill the landscape just beyond fence lines in many neighborhoods, the big football game of the season takes place this weekend.  The Texas Longhorns travel to Big Red nation to meet the Nebraska Huskers as they celebrate Red Out Around The World.
UT has not always been known for their 'burnt orange' color.  The first mentions of orange and white colors were ribbons worn by baseball players and the student body in the 1880's to show school spirit.  From the 1880's to 1897, the colors of UT ranged from white and gold, orange and white, orange and maroon, gold and maroon and mentions of royal blue in the mix.  Orange and white became the official colors of UT by popular vote.  UT football coach Clyde Littlefield brought "burnt orange" to the playing field in 1928 by ordering dark fade resistant orange uniforms for the team. The burnt orange color was revised yet again in the early 1960's.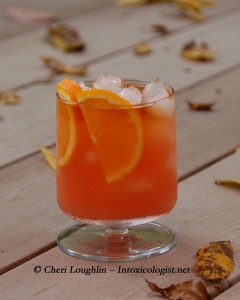 Burnt Orange Tang – created by Cheri Loughlin
1-1/2 ounce Clementine Vodka
1/2 ounce Triple Sec
1/2 ounce Amaretto
2 ounces Orange Juice
3/4 ounce Lime Juice
1/4 ounce Meyers's Rum
Orange Slice Garnish
Add all liquids except Meyers's Rum to highball glass over fresh ice. Stir. Garnish. Add float of Meyers's Rum to top.
Saturday, October 16, UNL celebrates Red Out Around The World to unite Husker fans not only in the stadium, but those scattered around the world.  This day is set aside to don your red, settle in with friends and join in the football watch party with all those watching Nebraska take on Texas.  There are several ways to join in the sea of red.  Let's get the party started.
Big Red – created by Cheri Loughlin
1-1/2 ounce Gin
3/4 ounce Cherry Brandy
Ginger Ale
1/4 ounce Grenadine – optional
Maraschino Cherries Garnish
Build in a highball glass over fresh ice. Garnish with maraschino cherries.
Find The Intoxicologist on Twitter, Facebook, StumbleUpon or Email: str8upcocktails@gmail.com
www.discus.org – Distilled Spirits Council of the United States
Copyright 2010 Cheri Loughlin – The Intoxicologist – All Rights Reserved
All opinions, reviews and spirits' coverage contained within are the personal opinion and decision of Cheri Loughlin, The Intoxicologist.
Huskers Wrangle with the Longhorns