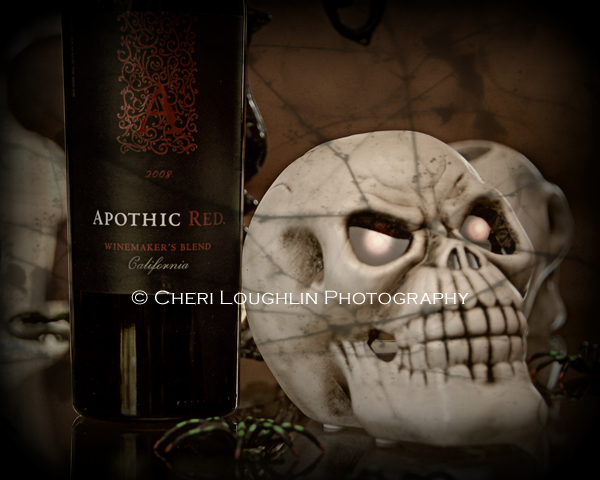 Halloween is the third largest party day of the year in the United States.  This means spirited fun, spooky cocktails and for some, wine.  During holiday seasons wine label choices become a little more festive.  Wine serves double duty during the Halloween season if the wine labels fit in with a darkly sinister theme.  Enjoy sipping the luscious wines chosen and then save the bottles as candleholders for a creatively creepy centerpiece at your Halloween party.
Apothic Red blended wine makes an excellent choice for slightly dark and sinister, yet classy wine label for the season.  Better yet, this affordable wine tastes great.  The flavors come across richly rewarding, deep and bold.  The fruit is lush without becoming overly sweet.
Apothic Red Wine 2008 Official Tasting Notes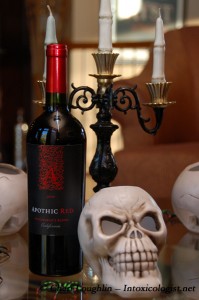 Taste: Intense fruit aromas, flavors of rhubarb and black cherry complimented by hints of mocha, chocolate, brown spice and vanilla. Plush velvety mouthfeel and smooth finish round out this intriguing, full-bodied red blend. – via Apothic Red
Varietal Content: Syrah, Zinfandel & Merlot
Pricing: $14 for 750ml bottle
Intoxicologist Notation:I purchased a bottle of Apothic Red Wine just last week to give it a whirl. Last night I finally opened the bottle and completely loved it. Ironically a bottle arrived this morning for review purposes without prior knowledge it was on its way.  This truly is lovely wine at an affordable price with tastefully mysterious label.  It's perfect for Halloween and an excellent serve for guests.  Enjoy!
All content ©2014 Cheri Loughlin, The Intoxicologist. All Rights Reserved. Chat with Cheri @Intoxicologist on Twitter and facebook.com/Intoxicologist or str8upcocktails@gmail.com
Apothic Red Wine Sips into the Dark Side